3 Must Have Meal Upgrades for Your Anti-Cancer Pantry
June 10, 2020 @ 7:30 pm
PDT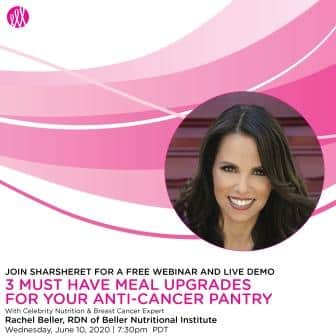 Click here to register.
Celebrity Nutritionist and Breast Cancer Expert, Rachel Beller MS, RDN, will reveal 3 essential Anti-Cancer Principles she believes ALL women should include in their routine – all of these will upgrade your pantry and greatly enhance the anti-cancer properties of your diet.
With a live demo, she'll teach you her easy tricks of the trade, which include recipes like her powered-up breakfast cookies. You too can forever change the way you think about what you choose to put in your body – join Rachel to find out how. For now, For life!
Organized by the Sharsheret La Brea Committee. Email Jenna Fields with any questions.
About Rachel:
RachelBeller MS, RDN is the CEO & Founder of the Beller Nutritional Institute and a Registered Dietitian Nutritionist who specializes in weight management and breast cancer prevention. She is a spokesperson for the American Cancer Society, and three-time bestselling author who frequently appears on television, in print, and online — including Good Morning America, The Dr. Oz Show, CNN, ABC World News Tonight, and The Rachael Ray Show to name a few.
Prior to founding the Beller Nutritional Institute, Rachel conducted research on the role of nutrition in breast cancer prevention at Cedars-Sinai Medical Center and the John Wayne Cancer Institute at Providence St. John's Health Center for over a decade. At the Beller Nutritional Institute, she provides nutritional action plans for wellness and cancer prevention.
Her third book, Power Spicing is now available along with the Rachel Beller Power Spicing product line of nutrition blends which were expertly crafted for both flavor and function.
Rachel offers both high level concierge private nutrition counseling as well as a unique 90 day online transformation masterclass, providing access for all women across the globe to her nutrition blueprint and signature 'hands on approach'. Rachel will show you the tricks of the trade to keep it simple. For now. For life!
For ongoing recipe videos and more follow her on Instagram @bellernutrition.
This webinar is made possible in partnership with:
The Cooperative Agreement DP 19-1906 from the Centers for Disease Control and Prevention