Empathy: Standing in Someone Else's Shoes
October 24, 2018 @ 8:00 pm
EDT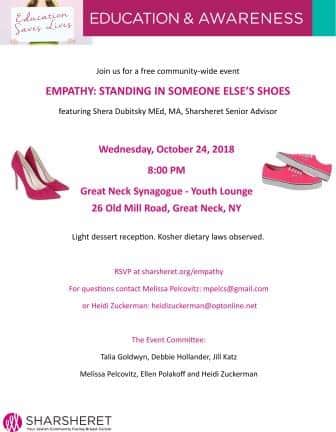 Join Sharsheret Senior Advisor, Shera Dubitsky MEd, MA as she speaks about Empathy: Standing in Someone Else's Shoes.
Speaker will be followed by a Q & A session and light kosher desserts. RSVP at sharsheret.org/empathy. For questions contact
Melissa Pelcovitz: [email protected] or Heidi Zuckerman: [email protected].
The Event Committee:Talia Goldwyn,Debbie Hollander, Jill Katz, Melissa Pelcovitz, Ellen Polakoff and Heidi Zuckerman.