Exclusive PAINT WITH ME! Art Therapy Class for Women in Our Embrace Community Facebook Group
June 2, 2020 @ 8:00 pm
EDT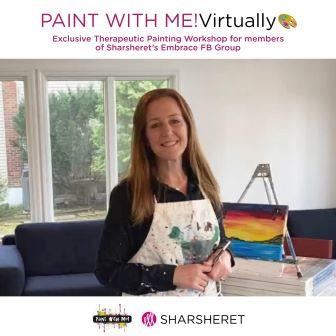 Women going through a metastatic cancer diagnosis can experience overwhelming amounts of stress and it increases given the current climate that we are in with COVID 19. Art Therapy helps women diagnosed with metastatic breast and ovarian cancer to reduce stress, improve relaxation and increase self-expression. Join us as we make strides in improving and promoting relaxation during a time that can be very worrisome and anxiety provoking.
PAINT WITH ME! Virtually is a chance to meet your inner artist. In a relaxed setting of your choice, you will be guided step-by-step through the process of replicating the event's featured painting with PAINT WITH ME! Founder, Nikki Sausen. No right or wrong! No previous art experience necessary. The experience is perfect for beginners as well as more advanced artists. Because…it's always a good time to paint!
The last day to register is this Friday, May 15, so you can receive your FREE art kit in time for the class. Join our Embrace Community Facebook page here. For more information or questions, please email Bonnie Beckoff.
Click here to register.
This webinar is made possible with generous support from: