Facing Menopause & Cancer
July 31, 2020 @ 10:00 am
PDT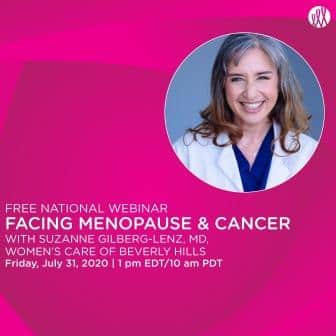 Are you struggling with weight gain, vaginal dryness, low libido, mood changes and hot flashes? Discover useful evidence-informed tips to help with your menopausal symptoms. With Dr. Suzanne Gilberg-Lenz, MD, Women's Care of Beverly Hills and Founder, Menopause Bootcamp. For more information, please contact Yael Baldinger.
Click here to register.
This webinar is made possible with generous support from The Siegmund and Edith Blumenthal Memorial Fund.