Medical Breakthroughs from ASCO
July 16, 2020 @ 8:00 pm
EDT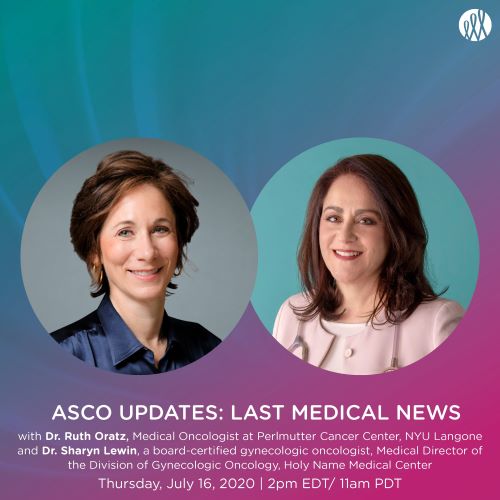 How will tamoxifen usage affect you? For how long will you need to be on chemotherapy? Will immunotherapy be an option if you have triple negative breast cancer? What new options are there for recurrent ovarian cancer? Could PARP inhibitors be an option for you?
Join us as our experts share the latest research updates you need to bring to your medical team.
Dr. Ruth Oratz
,
 Medical Oncologist at Perlmutter Cancer Center, NYU Langone, and
Dr. Sharyn Lewin, Gynecologic Oncologist, Medical Director of the Division of Gynecologic Oncology,
Holy Name Medical Center
, will report on the latest updates and research you need to know from the American Society of Clinical Oncology's annual virtual meeting.
Register Here
This webinar is made possible with generous support from:
The Siegmund and Edith Blumenthal Memorial Fund and
The Cooperative Agreement DP14-1408 from the Centers for Disease Control and Prevention