Lean into the Fold: Virtual Origami Workshop for Cancer Thrivers With Joel Stern, Origami Artist and Author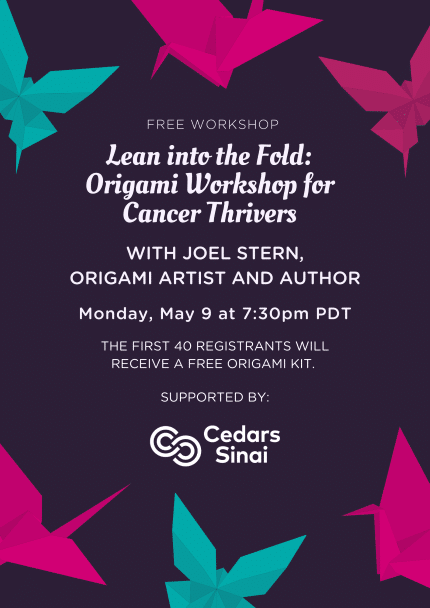 Whether you were diagnosed 10 days, 10 months or 10 years ago, join us for a night of creativity through the art of paperfolding with others who have been personally affected by breast and ovarian cancer. This class will incorporate elements of counting the Omer (the period between Passover and Shavuot) and will offer opportunities for spiritual and creative growth. Contact Aimee Sax for more information.
Our origami kits have been distributed to the first 40 registrants. You can still participate with items from home.
You will need the following 
supplies
:
5 sheets of 8.5 x 11 paper
10 sheets of 8.5 x 11 paper cut into 8.5 x 8.5 squares or origami paper like this one
Scissors
Pen
Thank you to our generous sponsors:
The Cooperative Agreement DP19-1906 from the Centers for Disease Control and Prevention