Navigating A Gynecologic Cancer Diagnosis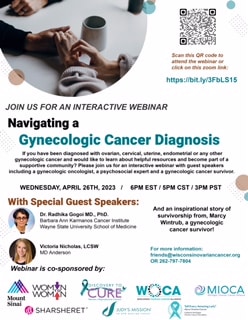 Join Sharsheret and other organization that support those impacted by ovarian cancer for an interactive webinar for those with a new(ish) diagnosis. Special guests include Dr. Radhika Gogoi of the Karmanos Cancer Center, and Victoria Nicholas, social worker at MD Anderson. And hear from someone who has been there. Sharsheret Caller, Marcy Wintrub will be sharing about her own experiences and the lessons she has learned.
For additional information contact [email protected] or 262-797-7804.
To register for this free event, go to https://bit.ly/3FbLS15 or scan hte QR code in the image.