Parenting During Cancer and COVID-19: Resources To Help With School-Age Children
June 11, 2020 @ 1:00 pm
EDT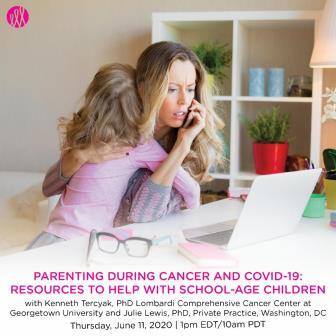 Being a parent with cancer during the time of COVID-19 introduces new challenges to maintaining a sense of normalcy in children's everyday lives. This webinar will help parents living with cancer learn about common questions and concerns that their children may have, know how to identify children's fears and worries, and share resources for maintaining open lines of communication and other parenting strategies.
This webinar is being led by Dr. Kenneth Tercyak, PhD, a pediatric psychologist and prevention researcher at Georgetown University's Lombardi Comprehensive Cancer Center. and Dr. Julie Lewis, PHd, a clinical psychologist in private practice in Washington, DC who specializes in anxiety and mood disorders in children, adolescents, and adults.
Send us your questions in advance! For more information or to have your questions addressed during the webinar, email Carly Sturm.
Click here to register.
This webinar is offered in partnership with The Jess and Mildred Fisher Center For Hereditary Cancer and Clinical Genomics Research, and the Lombardi Comprehensive Cancer Center at Georgetown University.
This webinar is made possible with generous support from: