RBG's Personal Trainer Bryant Johnson in conversation with Michelle Stravitz of 2Unstoppable
August 16, 2020 @ 7:00 pm
EDT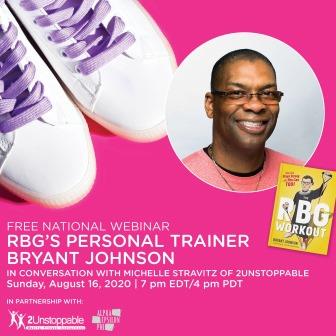 Join us for a fabulous program of motivation, conversation and empowerment! Meet Supreme Court Justice and octogenarian Ruth Bader Ginsburg's personal trainer, Bryant Johnson, author of "The RBG Workout! How She Stays Strong…and You Can Too!" as he talks with Michelle Stravitz, Co-Founder, 2Unstoppable, a fantastic on-line resource that helps cancer survivors at any stage get up and move. If you're a woman at risk, diagnosed, or survivor of breast or ovarian cancer, or want to learn some easy exercise moves- you won't want to miss this enlightening event. Everyone is welcome and encouraged to attend, so please feel free to bring friends and family members who would benefit from this fun, informative, and inspirational webinar. For more information, please contact Yael Baldinger.
Click here to register.
This webinar is in partnership with 2Unstoppable and Alpha Epsilon Phi Sorority.
This webinar is made possible by generous support from The Siegmund and Edith Blumenthal Memorial Fund and The Cooperative Agreement DP 19-1906 from the Centers for Disease Control and Prevention