Resuming Cancer Screenings and COVID-19 Updates
August 4, 2020 @ 8:00 pm
EDT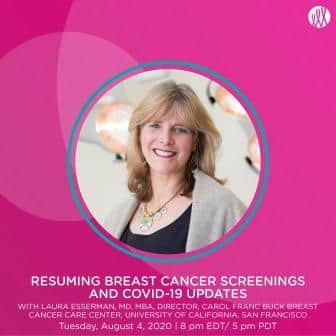 Dr. Laura Esserman, MD, MBA, Director, Carol Franc Buck Breast Cancer Care Center, University of California, San Francisco, will share the latest information on resuming your breast cancer screenings – whether you're a thriver, high-risk, or seeking routine screenings. She will also discuss how you can continue to keep you and your family safe as parts of the country begin to open up. Contact Eve Kleinerman for more information.
Click here to register.
More About Dr. Laura Esserman
Laura Esserman, MD, MBA, an internationally recognized breast surgeon, breast oncology specialist, and visionary in personalized medicine, is revolutionizing breast cancer screening and treatment throughout our nation today.
As a Professor of Surgery and Radiology at the University of California, San Francisco (UCSF) and the Director of the UCSF Carol Franc Buck Breast Care Center, Dr. Esserman's breast cancer work spans a spectrum from basic science to public policy issues and the impact of both on the delivery of clinical care.
Dr. Esserman is a passionate and persistent advocate for her patients. Her work is dedicated to accelerating the development of targeted, effective prevention and treatment options that can make a difference at the time when they are needed the most.
Dr. Esserman has published more than 300 articles in peer-reviewed journals, and is regularly consulted by prestigious scientific, business, and consumer media including The New York Times, Wall Street Journal, Los Angeles Times, Health Magazine, Prevention Magazine, The Newshour, ABC World News, the NBC Nightly News, the CBS Evening News, and NPR's Science Friday.
This webinar is made possible with generous support from The Siegmund and Edith Blumenthal Memorial Fund.