Sharsheret in the Kitchen – A Taste of Autumn with Pamela Salzman
September 13, 2021 @ 2:00 pm
EDT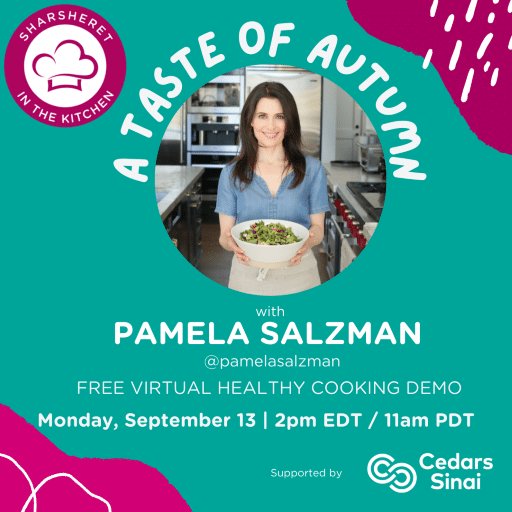 Join us for a FREE national webinar with Pamela Salzman (@pamelasalzman), cooking instructor, holistic health counselor, and author of Quicker Than Quick: 140 Crave-Worthy Recipes for Healthy Comfort Foods in 30 Minutes or Less, as she demonstrates delicious flavorful fall dishes that are perfect for your Sukkot table and beyond. This program is part of the "Sharsheret in the Kitchen" series, which brings nutritious kosher meal options to help empower all of us at risk for breast and ovarian cancer to make healthy diet choices. Recipes will be emailed to registrants on September 9th. For more information, please contact Jessica Jablon.
Click here to register.
This program is made possible with generous support from:
The Siegmund and Edith Blumenthal Memorial Fund
The Cooperative Agreement DP19-1906 from the Centers for Disease Control and Prevention
Sharsheret does not endorse or promote any specific medication, treatment, product, or service.