Sharsheret in the Kitchen – Simply Sensational Sides with Adeena Sussman and Sharon Wieder, RDN
October 18, 2021 @ 2:00 pm
EDT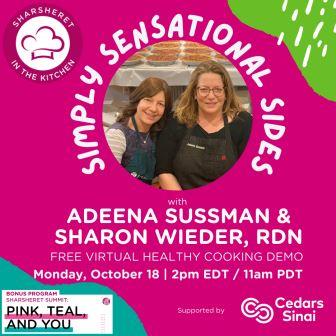 BONUS PROGRAM – Sharsheret Summit – Pink, Teal, and You: Join sisters, New York Times Best-selling cookbook author, Adeena Sussman, and Registered Dietitian Nutritionist, Sharon Wieder, as they make mouthwatering side dishes and share food swaps to make your meals healthier. Also, learn about Sharsheret's Pies for Prevention Thanksgiving sale, which was launched in 2008 by Adeena and Sharon in memory of their mother and grandmother. This program is part of the "Sharsheret in the Kitchen" series, which brings nutritious kosher meal options to help empower all of us at risk for breast and ovarian cancer to make healthy diet choices.
For questions, please contact Jessica Jablon.
Click here to register.
For more information about the Sharsheret Summit, click here.
Thank you to our sponsors:


and The Cooperative Agreement DP19-1906 from the Centers for Disease Control and Prevention.
Thank you to our media partner:           


      and