Sharsheret's Young Professionals Circle Casino Night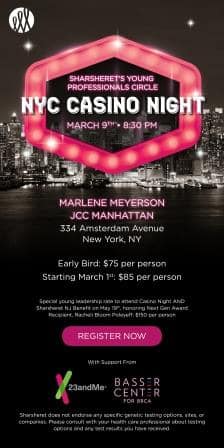 Save the date for Sharsheret's 6th Annual Young Professionals Circle event in NYC! Join us for a casino night on the Upper West Side, win great raffle prizes, and meet other young professionals interested in raising awareness about breast cancer and ovarian cancer in the community. Register now!
Please contact Sarah Eagle at [email protected] to join the committee, to suggest raffle prizes, or with any questions.
Event Committee: Miriam Alexander, Racheli Bloom Poleyeff, Josh Brooks, Edith Englard, Amanda and Drew Feld, Dara Fersel, Hannah Fisch, Raqi Frohlinger, Rebecca Genack, Jessica Goldman, Amanda Goldsmith, Bianca Goldsmith, Brianna and Jeremy Goldstein, Alex Gordon, Michal Greenspan, Miriam Holtzman, Alex Kaszovitz, Danielle and Yadin Koschitsky, Ayelet and Binyomin Kreisberg , Rachel and Joey Liberman, Alexa Nathanson, Adam Norris, Tamar and Steven Perkal, Samantha and Sam Rochlin, Dana Rosenberg, Julia Schneebaum, Sammy Schwartz, Marci Soifer, Ethan Stein, Goldi Weiser, and Rivkie Zeidman
This is event was made possible with support from 23andMe and Basser Center for BRCA.