Sharsheret's Young Professionals Circle National Virtual Mixology Night
June 30, 2020 @ 8:30 pm
EDT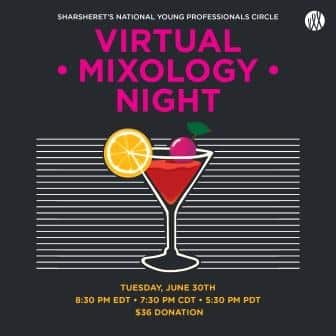 Join Sharsheret's National YPC for a virtual mixology night. Learn to make three new cocktails, meet new people from across the country, and test your knowledge of Sharsheret trivia. The zoom link and a shopping list will be sent to you once you register. Register now.
Event Chairs:
Sydney Altfield
Shimra Barnett
Sarah Blitzstein
Alex Filippo
Rebecca Genack
Brianna and Jeremy Goldstein
Alex Gordon
Josh Gruenbaum
Rachel Hillman
Jessica Krouner
Debra and Tal Singer
Ashley and Glenn Weiss
This event was made possible with support from Basser Center for BRCA.