Taking Advantage of the High Holidays to Reflect on this Presumption
September 15, 2020 @ 8:00 pm
EDT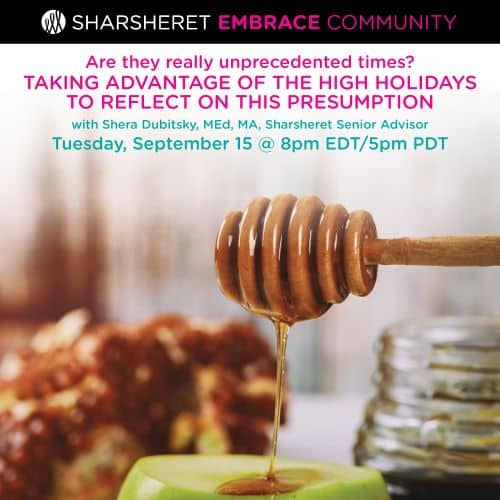 The High Holidays can cause a high level of stress especially when going through a metastatic cancer diagnosis. Coping and thinking about the ideas related to what the high holidays mean can be overwhelming, especially during this unprecedented time. Please join us on Tuesday, September 15th at 8pm EDT/5 PM PDT for a workshop with Sharsheret's Senior Advisor Shera Dubitsky. Together, we will reflect on this time of year and whether these are really unprecedented times. This event is only for members of the Sharsheret Embrace Community private Facebook group. For more information, please contact Bonnie Beckoff.
This Facebook group is part of our Margot Rosenberg Pulitzer and Sheri Rosenberg Embraceᵀᴹ program, made possible by Eisai's MBCInfoCentersm, and Lilly Oncology.
This program is made possible with generous support from The Siegmund and Edith Blumenthal Memorial Fund.