The Big Ordeal: Coping with Cancer Emotions
March 3, 2021 @ 8:00 pm
EST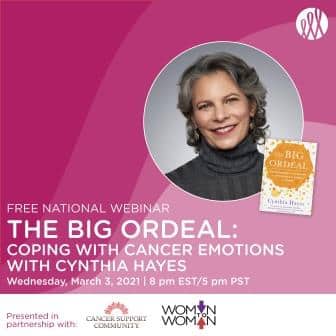 Nothing can truly prepare you for the emotional roller coaster of a cancer diagnosis. Please join us Wednesday, March 3 at 8 pm EST/5 pm PST as survivor and author of The Big Ordeal, Cynthia Hayes helps us anticipate and respond to the psychological turmoil cancer can bring. Learn about the typical sequence of emotions you can expect, from diagnosis through treatment and beyond. Understand the science behind the emotions, and how cancer and its treatment contribute to how you feel. Gain insight into coping styles, exercise benefits, complementary medicine and other ways to help you build resilience. Questions? Contact Melissa Rosen, Director of Training and Education.
Register here for this program.
Presented in partnership with Woman To Woman and Cancer Support Communities.