Women of Reform Judaism National Challah Bake
October 7, 2021 @ 8:00 pm
EDT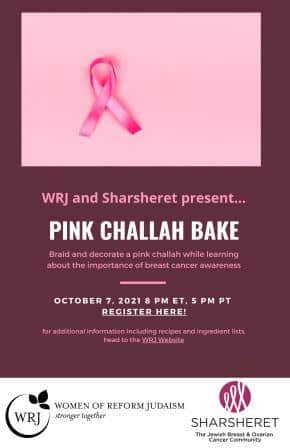 WRJ is partnering with Sharsheret to bring you a special program in honor of Breast Cancer Awareness Month.
As part of the larger Sharsheret Summit, WRJ will be hosting a Pink Challah Bake where, Rachel Margolis will demonstrate how to braid and decorate a pink challah and we will hear from Melissa Rosen, Sharsheret's Director of Community Education about the importance of including both men and women in education and discussions surrounding breast cancer touching on topics such as preventative measures and caretaking.
If you want to join us to make the dough sign on 20 minutes early (7:40pm ET) and Heather Lorgeree, WRJ Manager of Engagement, will demonstrate how to make the dough together. Make sure to bring quick rising yeast. Otherwise, feel free to make your dough beforehand and let it go through the first rise so you are ready to braid and decorate together!
Register here!