Advances in the Treatment of Triple-negative Breast Cancer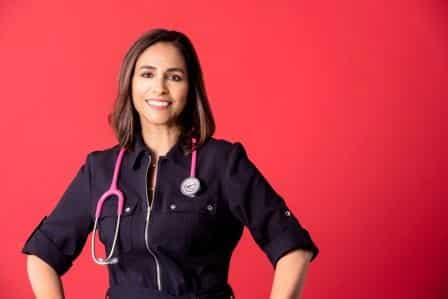 There are promising developments in the treatment of triple-negative breast cancer (TNBC), as new protocols, drugs and advances in immunotherapy provide more tools in combatting the aggressive disease.
TNBC is more likely to spread and recur than other breast cancers, and its treatment has proved more challenging. Between 10-20% of breast cancers are triple-negative – named for what is not found in the tumor, specifically any of the three common types of receptors known to fuel most breast cancer growth.
These receptors – the hormones estrogen and progesterone and the HER-2/neu protein – are targeted in most traditional breast cancer treatments. Without those markers, treatment for TNBC has been more difficult. But there are encouraging advances:
Neo-adjuvant therapy: treatment with chemotherapy before surgery. Recent studies have shown that patients whose tumors respond well to the treatment have better long-term outcomes.
PARP inhibitors: These drugs target an enzyme in cells that repairs DNA and thus can interfere with the growth of cancerous cells. This therapy has been approved for patients with BRCA gene mutations.
Immunotherapy: The Food and Drug Administration in March granted accelerated approval for the combination of atezolizumab (Tecentriq) and nab-paclitaxel (Abraxane) for treatment of TNBC. This combination is the first immunotherapy regimen approved for any breast cancer.
Clinical trials: Several clinical trials are underway that show promise, such as those for immunotherapy treatments that harness the patient's own immune system in fighting disease.
In short, several improvements are here and on the horizon in the treatment of TNBC.  There is intense interest in finding more effective ways to treat TNBC, and we need to be open to participating in clinical trials and expanding research into the disease.
TNBC and BRCA Gene Mutations
TNBC is more prevalent among women who test positive for BRCA gene mutations found at higher incidence in Ashkenazi Jews. TNBC accounts for about 70 percent of breast cancers among that group. African American and Hispanic women also are more prone than the general population to TNBC, which is most often found in women under 50.
Testing for BRCA gene mutations is encouraged if you have a diagnosis or family history of ovarian or breast cancer. The testing can help inform treatment options after a diagnosis or prompt a regimen of screening and preventative measures before.
Breast Services and Cancer Care at Holy Name
Holy Name's Patricia Lynch Cancer Center and Breast Center provide diagnostic, treatment, follow-up and support services, and genetic testing and counseling for patients with all types of breast conditions and cancer. To reach the Breast Center, call 201-833-7100. To reach Patricia Lynch Cancer Center, call 201-541-5900.
Dr. Rivera is dual board-certified in hematology and medical oncology and specializes in the use of chemotherapeutic drugs, immunotherapy, and targeted and hormonal therapies at Holy Name Medical Center in Teaneck. She sees patients in offices at Patricia Lynch Cancer Center and at Holy Name Medical Partners/West New York.