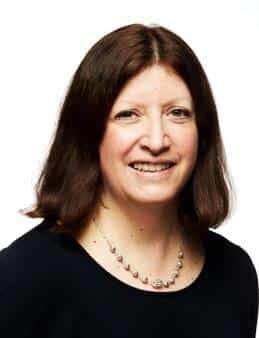 We are partnering with AstraZeneca to raise awareness of genetic testing in ovarian cancer. During ovarian cancer awareness month, it is so important to correct some of the misconceptions about the relationship between ovarian cancer and the BRCA1 and BRCA2 genes.  While scientists were aware early on that these genes were associated with both breast and ovarian cancer, the choice of a name for the genes was somewhat unfortunate.  The name "BRCA", BR for breast and CA for cancer, downplays the connection between these genes and ovarian cancer. Changes in both BRCA1 and BRCA2 are associated with a significantly increased risk for both ovarian and breast cancer.
When these genes were first identified almost 30 years ago, they were found in families with very strong patterns of breast and ovarian cancer.  These were the families that were chosen to participate in the studies that eventually identified the location and sequence of the DNA for BRCA1 and BRCA2.  It wasn't until time passed and more women were tested that it became apparent that these genes could be implicated when the pattern of cancer was not as strong.  Recent studies have shown that even with the broader guidelines that we currently use to determine who qualifies for genetic testing, we miss many families with hereditary cancer.  All women diagnosed with ovarian cancer at any age, even in the absence of family history, meet national guidelines for hereditary cancer testing.
Since all women with ovarian cancer meet national guidelines for genetic testing, it is highly likely to be covered by insurance.  Genetic testing has become much less expensive than it was even 5 – 10 years ago. All of the labs have financial assistance programs, so that testing can usually be arranged, without cost, even for those with limited or no insurance coverage.
Finally, many women with cancer believe that they don't need to have genetic testing done.  They see the main value of the test as predicting that there is a high risk for cancer. Once the diagnosis has occurred, they figure that the test won't benefit them, since "the cat is out of the bag".  We want women with ovarian cancer to understand that there are two good reasons to specifically test those affected with cancer. The first would be to provide helpful information to family members who may be concerned that they are also at an increased risk to develop cancer.  The second is that women with ovarian cancer and a BRCA1 or BRCA2 mutation may be eligible for targeted treatment specific to unique characteristics of the tumor.  
All women with ovarian cancer need to discuss the pros and cons of genetic testing with their healthcare providers.  Sharsheret is also available as a resource for those who are unsure of the benefits of genetic testing for themselves or family members.  We also encourage you to visit the beBRCAware.com website where you can learn more about the importance of genetic testing in ovarian cancer  If you have questions, don't hesitate to contact us.