Biking and Blessings For Cancer Survivors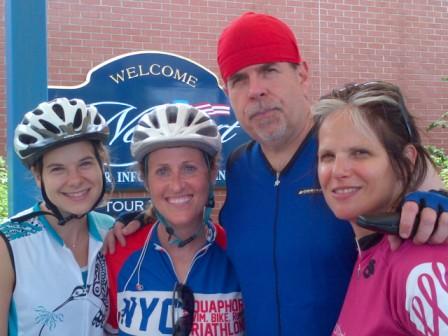 Just returned from a 90th birthday celebration bike ride from Boston to Newport (Rochelle Shoretz's 40th and my 50th). The cycling group was organized by a friend, Richard Shuster, who has as large a personality as Rochelle's. It was not a charity ride. Instead, these annual Shuster rides are all about pure joy and being mindful of life's blessings. In our group of 40 bikers, there were three cancer survivors and a woman whose daughter is BRCA positive, as well as Andy Seidman, a renowned breast cancer oncologist at Memorial-Sloan Kettering Cancer Center.
The first day had its share of a few treacherous roads but then we navigated on to a beautiful bike path. As I biked alongside Rochelle, she was drafting behind Andy and looked at me and said how surreal it was to be riding on Andy's tail. Just as we pulled into the Biltmore Hotel in Providence, Rhode Island, having clocked 52 miles, the sky opened up and there was a torrential downpour. We considered ourselves blessed simply by the fact that we managed to stay dry.
The second day began with an "official" toast to the "most inspirational rider", who briefly spoke about Sharsheret as I stood beside her clad in my Sharsheret cycling gear. After riding along a 17-mile bike path along the water, the day ended in Newport as we biked into a park bordering the Atlantic Ocean with kids flying kites across the sky. Spectacular!
As I biked alongside my daughter Kayla, who will be college-bound by the end of the upcoming school year, I was reminded of how unsuccessful we were at flying kites when she was younger. I felt blessed not just because kites flew in the sky rather than the threatening showers that were predicted earlier in the morning, but also for celebrating my 50th birthday, biking next to her.
Birthdays take on a more special meaning after a breast cancer diagnosis. It did not surprise me that Rochelle had the physical stamina for the 100-mile bike journey. It was the first time I witnessed how she had the stamina to keep retelling the Sharsheret story. The wheels of joy and embracing life's blessings kept us going. Next year, we will clock the extra one mile to get us to a century!! The year after that we will aim for 120!