Breast Cancer Awareness Does Not End on October 31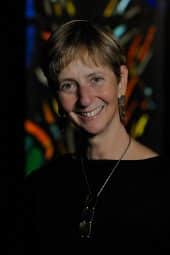 Time collapses each time I have my annual mammogram. Months and years fold in upon themselves like an accordion. My last mammogram was a year ago and yet, as I signed in at the reception desk today, it felt like I had just checked in not a month before. How does the just-been-here-just-done-this feeling surface every year?
Millie Ibarra, our family nanny and dear friend, is a ten-year breast cancer survivor. I made my mammogram appointment today, November 30, to honor her birthday. I know that it has been more than ten years since Millie's diagnosis, but when I put on the robe before the mammogram, time collapsed for me. It felt like just a moment ago that I was sitting in an office at UMDNJ with her, listening to Dr. Clark tell us that Millie had stage four breast cancer.
My mother and maternal aunt both died of metastasized breast cancer. I bring them with me into the cold, antiseptic room with the spaceship-like imaging machine every year, wishing that they had benefited from all the advances in breast cancer diagnosis and treatment of the past decades. Although my mother's twentieth yahrzeit is in two weeks, it feels like just a minute ago that she was on the phone, telling me that the cancer had spread and that it was time for me to come home to help her. I packed up Josh, just five months old, left the older three at home with Jon and flew to Maine. Time collapses.
For my mom and my aunt and Millie and my friends, and for the scores of women at the Orangetown Jewish Center who are fighting or have fought breast cancer, I religiously make my annual mammogram appointment. And I go on time. I say a prayer, smile bravely through the test and leave, hearing the precious words, "Looks good! We'll mail the report." The Breast Center provides bouquets for every woman and I always choose yellow roses, my mother's favorite.
One year, the technician could not find any yellow roses amidst the pinks and reds. When I burst into tears, she put her arm around me. "Don't take any roses this year," she said. "Next year, take two". I am one of the lucky ones; the seven in eight, not the one in eight.
With prayers for good health,
Rabbi Paula Mack Drill