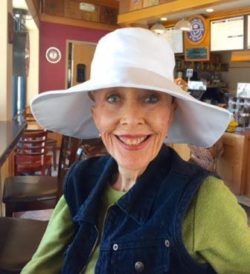 Cancer is not a 'journey' nor a 'gift' nor did it give me a heightened sense of priorities. It is a disease which must be treated. It cannot be ignored. It is dangerous. BUT, it is also something with which people can coexist. It does not always ruin people's lives, disrupt them significantly, identify them, or cause unremitting terror every day. I'd always wondered how friends who'd been diagnosed with cancer could ever really enjoy their lives. Why would they bother with manicures or going out to lunch with friends or trying to get tickets to 'Hamilton'—they had cancer. How could they have fun? The sword of Damocles was always over their heads, waiting to descend. They had to be faking their good cheer.
I realized that I'd done lots of things before July 28, 2014, when I was diagnosed with advanced ovarian cancer. The cancer was always present. The cells were dividing away, maybe invading and traveling and relocating. But somehow, I'd done what I wanted. I just didn't know that I had cancer. Then, I found out. But I was still able to do what I wanted. I'd just have to incorporate cancer into my life. I can have a life which includes that which is interesting and fun even as I deal with the cancer.
Finally, I do encourage full and thorough knowledge and investigation. Talk with people who have (or might have) cancer. Learn your family history. Get involved. There is no such thing as too much information. Sharsheret is a wonderful and supportive organization which provides so much. It is a source of emotional support, medical data, and resources with which to help cope with life. Yes, there are moments of fear & trembling. But the unsolicited friendship of Sharsheret is amazing. So so so so helpful, and I am so grateful and appreciative.