Developing My Social Work Skills: My Summer At Sharsheret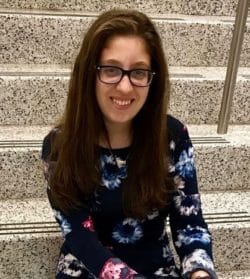 This summer I had the privilege and honor of working as Sema Heller – Netivot Shalom Summer Intern. As a graduate student at Silberman School of Social Work, I was looking for a meaningful experience for the summer between my years as a social work student. When my mother, who connected with Sharsheret after her diagnosis and is currently involved as a peer supporter, mentioned an email about the internship, it was apparent to me that Sharsheret would be the ideal place to spend my summer.  I am fortunate that I was able to get an opportunity to work for organization that I care deeply about, as well as developing skills for my future as a social worker.
I was given the opportunity to be involved in several projects that will have an impact on the services Sharsheret provides to Jewish women families facing breast cancer. Additionally, I was able to contribute to Sharsheret amazing efforts of furthering outreach and letting others know about Sharsheret programing. Two projects that I felt very passionate were tip sheets for communicating with one's medical team and creating a current list of support groups in areas that callers are from. For Sharsheret's August webinar I was able to develop handouts to both improve communication  with one's medical team and the roles of the professionals one works with during treatment.  As a social work student, I know how valuable mutual support is to those undergoing an experience.  By creating a list of local support groups, I was able to ease the process of locating active groups when callers call.
My experiences with Sharsheret, and the skills that I was privileged to develop through my time at Sharsheret will remain with me along my social work trajectory.  It has been a tremendously rewarding and enjoyable summer and I am looking forward to hearing about the incredible things Sharsheret will continue to do for the Jewish community.