Beauty Hacks: Demo and Q&A with Sephora's Brave Beauty in the Face of Cancer Team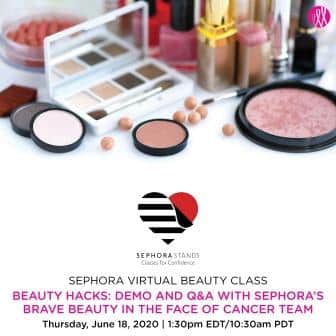 Sharsheret is partnering with Sephora's Classes for Confidence to host an "Ask the Expert" Beauty Demo and Q&A session. Join Sephora Beauty Experts and survivors who will share application tips and product suggestions to help address the visible effects of cancer treatments. Connect with others in a fun and supportive setting from the comfort of home while learning soothing skincare tips, how to restore glow and the appearance of brows or lashes. Email Yael Baldinger to have your questions addressed during the webinar, or for more information.
Click here to register.
This webinar is made possible with generous support from:
The Siegmund and Edith Blumenthal Memorial Fund and