Cancer & Covid in Chicago: A Health & Wellness Q&A Webinar
June 17, 2020 @ 12:00 pm
CDT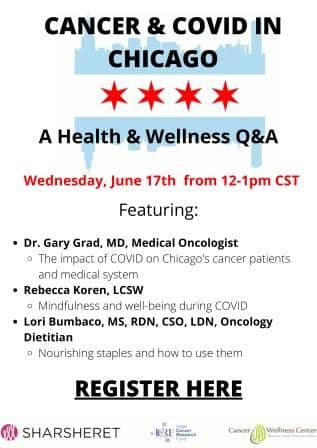 Presented in conjunction with the Israel Cancer Research Fund and the Cancer Wellness Center
Join us for an interactive panel discussion with three local cancer professionals:
· Medical oncologist, Dr. Gary Grad, will discuss the impact of COVID on Chicago's cancer patients and medical system.
· Licensed Clinical Social Worker, Rebecca Koren, will address mindfulness and well-being during COVID.
· Oncology dietitian, Lori Bumbaco, will talk about nourishing staples and how to use them.
Register here.