Cannabis Options During and After Treatment
May 18, 2020 @ 4:00 pm
EDT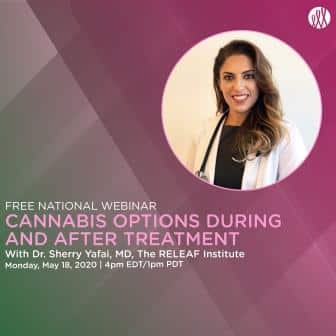 With Dr. Sherry Yafai, MD, The RELEAF Institute. Learn how cannabis can be safely integrated during and after cancer treatment to treat the physical and psychological side-effects while minimizing narcotic use. Explore the different modalities of use, and the pros and cons of each. Get the opportunity to ask an expert your cannabis questions.
Email Jenna Fields to have your question addressed during the webinar, or for more information.
Click here to register.
Possessing, using, distributing and/or selling cannabis is a federal crime. In addition, in many states, possessing, using, distributing and/or selling cannabis is also a crime. You are responsible for learning if cannabis is legal in your state.
The information provided in this webinar is for informational purposes only, and should not be used to treat, prevent or cure any medical condition. The information is not a substitute for medical treatment or advice. Prior to using any product discussed today, you should consult with your medical provider.
Sharsheret does not endorse or take responsibility for any information provided to you in this webinar and will not be responsible for any information provided herein, under any theory of liability or indemnity.
This webinar is made possible with generous support from:
The Siegmund and Edith Blumenthal Memorial Fund and