Creating A Caring Community to Support Those in Need
June 16, 2020 @ 2:00 pm
EDT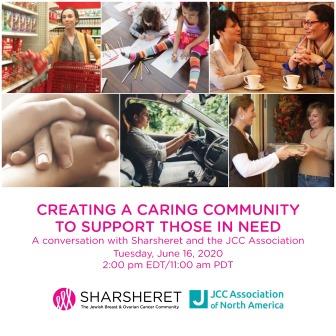 Join the JCC Association and Sharsheret for a timely and important conversation on Creating A Caring Community to Support Those in Need. It is often assumed that providing support is instinctive, that we know how to best help. That is not always the case. And everyone knows someone who would benefit from support. This webinar will explore the best ways to support a friend, loved one, or community member facing COVID 19, breast cancer, or any disease. Concrete, practical tips will be offered. In addition, we will explore how communities as a whole, can meet some of the needs of their members facing illness. Thursday, June 16th. 2:00 pm EDT/11:00 am PDT.
To register click here.
Questions? Contact Melissa Rosen, Sharsheret's Director of Community Education.