Let's Get Cooking! – A Family Cooking Event
October 14, 2020 @ 5:00 pm
PDT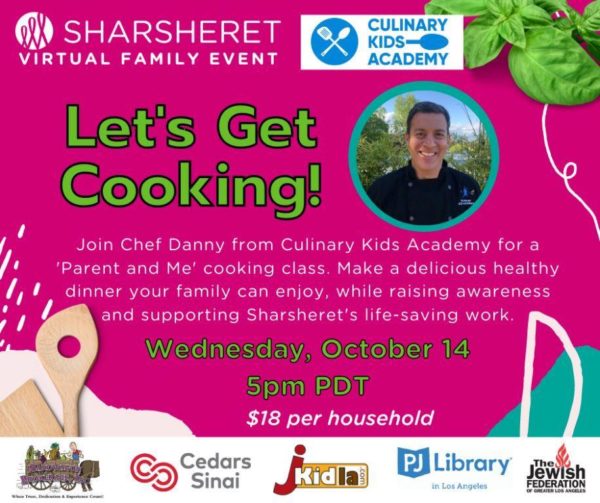 Join us for a fun "Parent & Me" virtual cooking event with Chef Danny Corsun, Culinary Kids Academy, on Wednesday, October 14 from 5pm – 6pm PDT. Make a healthy and delicious dairy dinner with your family, while learning about Sharsheret and the importance of caring for our community.  The ingredient list will be provided with registration.  Geared toward children first grade and up. Adult supervision required. $18 per household. For more information, please contact Jessica Jablon.
Click here to register.
This event is made possible with support from


.
The program is in partnership with Culinary Kids Academy, JKidLA, PJ Library in Los Angeles and Bandwagon Brokerage, Inc.
JKidLA is a web resource of Builders of Jewish Education, in partnership with The Jewish Federation of Greater Los Angeles. This website is designed to provide one place for families to get a comprehensive listing of the countless formal and informal Jewish educational opportunities and resources in greater Los Angeles. For more information about JKidLA, contact Rachel Kaplan.
PJ Library in Los Angeles sends thousands of children (ages 0-12 years old) across Los Angeles FREE Jewish-themed books and music that stimulate the mind and nurture a lasting passion for Jewish values and culture. Learn more and sign up today! PJ Library program in Los Angeles is made possible by The Jewish Federation of Greater Los Angeles, generous local donors and the Harold Grinspoon Foundation. For more information about PJ Library, contact Risa Goldstein.