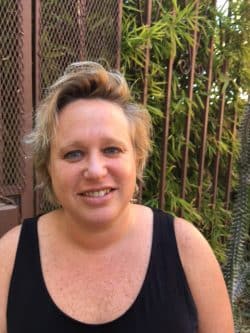 Navigating hereditary breast and ovarian cancer is not always easy.  Sharsheret simply makes it a little less difficult to face our decisions  and to travel the path that we have chosen. That's why I've chosen to get involved and become a peer supporter, to try and make things easier for those who will inevitably face these decisions next.
I am what is called a previvor. Cancer previvors are individuals who are survivors of a predisposition to cancer but who have not actually had the disease. This group includes people who carry a hereditary mutation, a family history of cancer, or some other predisposing factor.  I am positive for the BRCA2 mutation.
I tested positive for the BRCA2 mutation about eight years ago. I had delayed being tested for a few years after my mother passed away. Though it was ovarian cancer she eventually succumbed to, when she was first diagnosed in 1990, it was breast cancer. Around the age of 30, I knew I couldn't put off the test any longer. It's not like I didn't already know what the results would be. Earlier this year, I underwent a bilateral prophylactic mastectomy with expanders. It was my Sharsheret Peer Supporter who helped get me through the months that followed. With these procedures, it's hard to find people who know exactly what you're going through. Often times, though they mean well, family and friends say the wrong thing. My Sharsheret Peer Supporter, Lauren, never said the wrong thing.
I am now three months out of my exchange surgery. I know that I will have to remove my ovaries in the next few years, but for now, I am grateful that I was able to have the procedure, that it was covered by my insurance, that there were no signs of cancer or pre-cancer in the pathology and that there was someone there to walk me through it all. I have learned to focus on the positive. The decisions are never easy; they never will be. But with Sharsheret, there will always be someone to guide you through the process.