From Aephi Sorority Sister To Sharsheret Caller To Summer Intern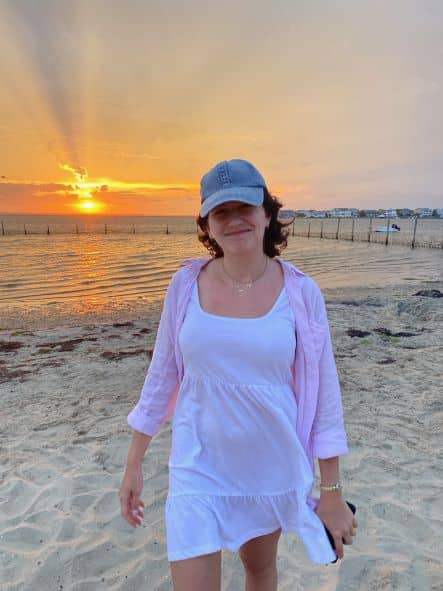 "You should reach out to Sharsheret." This was one piece of advice among many that I received as I processed my breast cancer diagnosis last year at age 30. The organization sounded familiar from my college days as an AEPhi sorority sister. I had been feeling so stressed, sad, and confused and needed to find targeted support. I decided to send an email that very day. I got a quick reply from one of the incredible social workers and knew right away that my connection to Sharsheret would last far beyond those early days of cancer.
The social worker made me feel comfortable and at ease during our initial phone call. She listened carefully as I told my story and responded in a compassionate way. Rather than just make suggestions, she asked what resources from Sharsheret would be most helpful to me. She followed up with a generous care package and informational literature, as well as connected me to a peer supporter – someone who faced a diagnosis very similar to my own. Hearing about this young woman's journey and the beauty she found on the other side of treatment was a moment I'll always be grateful for. In fact, it inspired me to become a peer supporter myself. Giving back to the breast cancer community through Sharsheret has been really rewarding and special.
Fast forward to this past Spring, when an opportunity to become more involved with Sharsheret crossed my desk. I was finishing my first year in an MSW program and received an email from the graduate student association with the subject line, "Summer Internship Opportunity." I opened it, and to my surprise, the opportunity was with Sharsheret. My experience with the team up to this point had been nothing short of amazing. It was a serendipitous moment, so I immediately applied. Interning for Sharsheret and seeing firsthand all the hard work that goes into supporting callers like myself was truly a once in a lifetime experience that I'm grateful for.
I've worked on several projects this summer, including helping to streamline our caller database, devising a list of nationwide MSW programs for a potential educational partnership, and brainstorming a redesign of Sharsheret's campus page. What I've learned from these projects is the importance of gradual consistent progress. I may not have witnessed some grand outcome as a result of my work, but one day the daily tasks I completed may affect the reach and scope of Sharsheret's impact. My database project will hopefully allow Sharsheret to connect women in their peer support network more quickly, as well as better target their programming and resources. My MSW project could lead to future generations of social work students learning about the unique challenges that breast and ovarian cancer patients face. A redesign of the campus page might increase awareness and fundraising among the college community.
This experience has been all about imagining and appreciating how small endeavors can one day inspire big changes. Along the way, I've gotten to learn from the wonderful people who work for this organization. They have shown me what passion, dedication, creativity, and community look like in action. Women at any stage of a breast or ovarian health diagnosis can feel safe and take comfort in knowing that Sharsheret exists as a resource for them. I will forever cherish my summer here!