From The Daughter Of A Sharsheret Volunteer To A Sharsheret On Campus Activist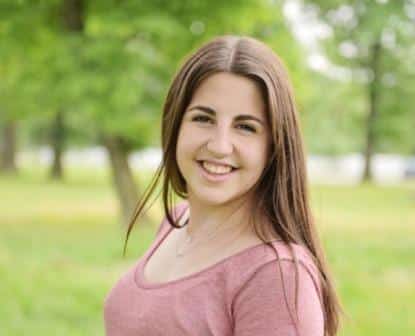 I think I was involved in Sharsheret from the beginning. When Rochelle Shoretz founded this organization, she was attempting to fill a void within the community. As she was dealing with her own diagnosis and treatment of breast cancer at only 27 years old, she realized that there was no support for young Jewish women suffering from breast cancer. So, in the waiting room of Sloan-Kettering, Sharsheret was born.
There are many different aspects to what Sharsheret does and what kind of support and education they provide to so many different communities across the country. One of the events that I personally always looked forward to, is the annual Sharsheret luncheon event. I would show up with my Mom, who usually chaired the event or helped run the silent auction, at about 6 or 7 in the morning to help set up. Along with several other daughters of volunteers, I would put pamphlets on all the tables and help set up the auction items. I would read about and hear about the survivors of breast cancer who gained support from Sharsheret, and I educated myself on what Sharsherets mission was.
As I got older and began to internalize the messages and goals of Sharsheret, and witnessed the impact it had on so many women, I wanted to become involved in my own respect. All my life, I had been the daughter of a volunteer, but I wanted to do more than that. I attended Frisch for high school and wanted to try to bring the messages of Sharsheret there. We decided that we would participate in Sharsheret Pink Day, a day to raise awareness and money on behalf of Sharsheret. Along with many other high schools across the country, we sold t shirts and took pictures with photo booths. Sharsheret was an active part of my life and something I held very close to my heart.
When I started NYU as a freshman, I met a junior, someone who would eventually become my roommate. In the middle of that year, her mom was diagnosed with breast cancer, and spent the remainder of the year enduring treatment. During that time, Sharsheret was a support system for both her mother, and for her and her siblings. She likes to say that she didn't think she would make it to graduation without the support and reassurance of Sharsheret. After that year, and after her Mom had finished treatment, we got together to have lunch. She told me that she and another person wanted to started a Sharsheret club downtown, and they asked me to join the board. I was honored, and so excited to have a piece of Sharsheret as a part of my new life in college. Needless to say, I loved the board, and I have now taken her position as the one of the co-presidents.
What I have realized over the past year, is that my perspective was flawed. When I would volunteer as a child, with my mother, I thought that Sharsheret was just a support for women that were themselves going through treatment. What I have now realized, is that sharsheret provides so much more. Through the presence of a Sharsheret board downtown, we have not only educated so many on the realities of breast cancer and its prevalence in Ashkenazi Judaism, but we have also provided support and been a resource for so many whose family members are enduring treatment. Since the foundation of this board, I have realized what a benefit having Sharsheret on campus can be, and how important our presence truly is.
So, I encourage each of you to get involved in Sharsheret on your campus, whether that means joining a club or a board, or founding your own Sharsheret club on campus. I am confident that you will find it an incredibly meaningful and impactful experience.