I Am Reminded Of Sharsheret In Every Class I Teach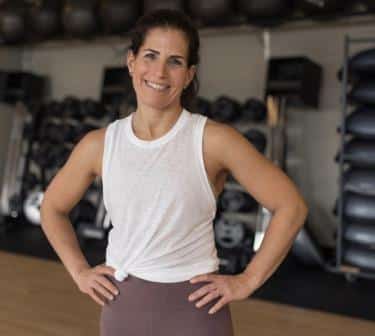 March 14, 2014. The day I became part of the Sharsheret family. 
Rochie Shoretz, Sharsheret's Founder, messaged me on Facebook to be her trainer. I knew she had received the numbers of multiple trainers and I was honored that she had chosen me.

I remember the first time we met. Rochie said to me, "You're going to learn a lot by training me," and truer words were never spoken. Rochie was my first breast cancer client and, unfortunately, she was not my last.  
Many times I would walk into her house with a game plan for her work out, and have to adjust it based on her physical limitations for that day. Despite the labored breathing that she often experienced, Rochie always gave each workout 100%. She was right that it was a constant state of on the job training. What I learned was that the mental part of training was more important than the physical. Just being able to work out helps women feel good as they battle breast cancer.

October 27, 2015. My good friend Lauren S. texted me and asked if I could start training her. I knew that, like Rochie, she was battling stage 4 breast cancer, so I felt confident that I could help her. But then she texted me that she had lymphedema. I never heard of lymphedema, let alone trained someone with it. I wasn't afraid to train her because I could still hear Rochie's voice saying to me, "You're going to learn a lot by training me." Lauren now was my Rochie, and I was going to learn a lot by training her. And I really did, and since then, I've trained countless women who have worn a compression sleeve to class or training session and I now know how to train them. Unfortunately, Lauren is no longer with us, but I feel her presence every time I see a woman exercising with me wearing the compression sleeve.


March 5, 2019, I started to train my good friend Lauren G. Lauren G., like Lauren S., has lymphedema, so I was familiar with what exercises we could do and how to adjust her so she could exercise. Lauren G had a double mastectomy like many of the women I have taught and trained, but instead of the usual breast implants, Lauren had a new type of breast reconstruction surgery. Lauren's doctor took the fat tissue from her abdomen and used that to rebuild her breasts. I've never trained anyone who had this breakthrough surgery before, and again, I could hear Rochie's voice saying to me, "You're going to learn so much by training me." Lauren is my latest Rochie, teaching me how to be a better trainer. Since the surgery, Lauren has had a hard time connecting with her lower pelvic floor muscles, so I felt it best to put her on a Pilates reformer to help her better feel feedback. I'll never forget the first time Lauren felt her abs again. Every week she could feel the muscles more and more, and now this summer, she is strong enough to teach dance at Camp Lavi again.


May 1, 2015. "Shabbat Shalom Love" — the last text I received from Rochie. Yet, to me Rochie is in every woman I train or teach battling breast cancer. She is the first link in the Sharsheret, the chain, that connects me to all these women, Sharsheret is in every class I teach, as women who have endured breast cancer are continuously linking to each other through fitness as they reclaim their bodies and minds. I look forward to meeting my next "Rochie," as technology advances and seeing what I'm going to learn next.
BIO:
Shira Kraft has been a fitness enthusiast since the age of 12 and fitness instructor since the age of 17. She teaches over 20 classes a week between TheGym in Englewood, Jcc in Tenafly and Cool Hot Yoga in Cresskill, as well as private clients. Shira tries to make her classes challenging, yet doable for all. She feels although she's a teacher she's always a student.