I Run To Honor The Women In My Family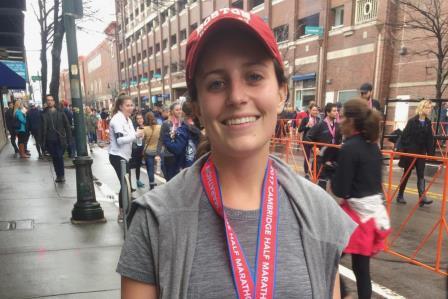 I am excited to share with you that I am an official member of Team Sharsheret for the 2018 TCS New York City Marathon!
I am inspired to undertake this rigorous challenge as I am doing it in support of an amazing organization – Sharsheret, a national not-for-profit organization supporting young women and families facing breast and ovarian cancer at every stage.
I have been involved with Sharsheret my past four years at Boston University as a member of Alpha Epsilon Phi's Alpha Chi Chapter (AEPhi). AEPhi supports Sharsheret as one of our philanthropic partners, and we have held countless events to increase awareness of Sharsheret's mission and resources as well as undertaken fundraising activities. Sharsheret is a big reason I chose to join AEPhi at Boston University because of the personal connection it has to my family.
My Mom had breast cancer and was BRCA-1 positive, the gene commonly found in Ashkenazi Jews. Although my family is not Jewish, her experience with chemotherapy, radiation treatment, a bilateral mastectomy and TRAM-flap reconstruction, and bilateral oopheractomy connected my family to the community that works to support women and families enduring similar struggles. My mom has been in remission for over 10 years now, and as a family we continue to seek effective avenues to advocate for better support for women and families facing breast cancer.
My family is my greatest support, and I am extremely close with my two older sisters and brother as well as my parents. Athletics has been a big part of our sibling connections throughout childhood as well as through today – my two sisters and I ran half marathons together when we all lived in Boston, and my brother and sister just completed a half marathon down in D.C. where my brother lives! I am running the NYC Marathon alongside my older sister, Maggie, who is also a member of Team Sahrsheret. I have had the pleasure of seeing the profound impact that Sharsheret can have, and am excited by the opportunity to share this experience with my sister, as well.
As a member of this incredible Team, I have raised funds in support of Sharsheret's breast cancer and ovarian cancer programs and services.
I am also running in memory of the countless women who have been taken to early by breast cancer, such as my grandmother Claire Burke and friend Kristen Ruth.