Is Your Cancer Likely to Come Back? Know More About Your Risk for Recurrence With Natera Oncology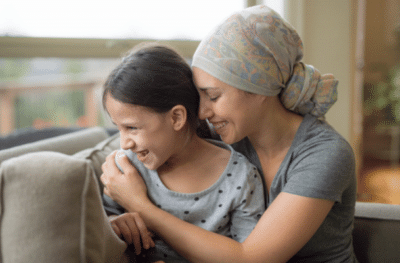 If you have been treated for breast or ovarian cancer, you may worry about the possibility that your cancer may come back, or recur. This is a common concern for people who have experienced cancer.1
Establishing a strong monitoring plan with your oncologist can help you gain confidence after treatment. Read on for more information about monitoring for recurrence and learn how Natera's Oncology tests can provide additional information to help inform your care.
What is Surveillance?
Surveillance is the period after cancer treatment during which a person is monitored for recurrence. Surveillance can include physical exams, imaging, biomarker tests, and other tests recommended by your oncologist.
Your oncologist will determine how often and for how long you will receive surveillance testing. Their recommendations are likely to differ for each individual. This tailored surveillance plan is part of individualized care, or precision medicine. People with a higher risk of recurrence based on factors such as cancer subtype, stage at diagnosis, and age may receive more vigilant surveillance for longer durations. Those with a known genetic risk for recurrent or secondary cancers based on hereditary cancer testing may also receive additional testing.
What is SignateraTM for Cancer Surveillance?
 Standard surveillance methods are most sensitive when the recurrent tumor is large enough to be visible on scans or to cause noticeable symptoms. These methods may not be able to detect molecular recurrence—the presence of small traces of cancer that aren't yet detectable by scans.
The SignateraTM Residual Disease Test is a personalized blood test developed by Natera to help people with breast cancer and their doctors watch for recurrence. It works by testing your blood for microscopic pieces of tumor DNA called circulating tumor DNA (ctDNA). When used at regular intervals over time along with other tests recommended by your doctor, Signatera™ may detect traces of recurring breast or ovarian cancer ahead of standard tools like imaging.2,3
How does Signatera™ work?

How can I receive Signatera™ testing?
Talk to your oncologist to get started with Signatera™. Natera has developed a printable discussion guide to help you ask the right questions and learn if you are a candidate for testing. All Signatera™ tests need to be ordered by your oncologist.
Natera welcomes all insurance plans. Natera also offers financial assistance programs for people who qualify.
What about hereditary cancer testing? 
Knowing if your inherited genes play a role in your cancer is an important part of your individualized treatment plan. About 3% of breast cancers and 10% of ovarian cancers are linked to variants in BRCA1, BRCA2, or other genes.4 People of Ashkenazi background are 10x more likely than the general population to carry a mutation in the BRCA gene.
Knowing if your cancer is linked to an inherited genetic variant can help inform your treatment plan, clarify your personal risk for recurrence and secondary cancers, and guide testing for blood-related family members who may also be at higher risk.
If you are concerned about your hereditary cancer risk, a genetic counselor can help you understand your options and answer your questions. Sharsheret provides the option to speak one-on-one with a certified genetic counselor, and Natera offers complimentary genetic information sessions. Genetic counseling may also be available through your care team.
What is the EmpowerTM Hereditary Cancer Test?
EmpowerTM is a hereditary cancer test from Natera that analyzes your DNA for genes that could increase your cancer risk or impact cancer treatment. Several gene panels are available, including:
Hereditary breast and ovarian cancer syndrome (BRCA1/BRCA2)

Lynch syndrome

Breast, ovarian, endometrial cancers, and Lynch syndrome genes
Ask your oncologist whether Empower™ is right for you. Natera's Family Testing Program offers testing for blood relatives of those tested with Empower™ at no additional charge if eligibility criteria are met.
To learn more about Natera's Oncology tests, visit www.natera.com/signatera-breastcancer or contact [email protected].
Disclaimer
The tests described have been developed and their performance characteristics determined by the CLIA-certified laboratory performing the test. The tests have not been cleared or approved by the US Food and Drug Administration (FDA). Although FDA is exercising enforcement discretion of premarket review and other regulations for laboratory-developed tests in the US, certification of the laboratory is required under CLIA to ensure the quality and validity of the tests. CAP accredited, ISO 13485 certified, and CLIA certified. © 2022 Natera, Inc. All Rights Reserved.
Sharsheret is a national not for profit cancer support and education organization and does not provide any medical advice or perform any medical procedures. Sharsheret does not endorse or promote any specific medication, treatment, product, or service, and makes no guarantees regarding the effectiveness of the product discussed herein. The information provided herein is not a substitute for professional medical advice or treatment. You should always seek the advice of your physician or other qualified health provider. 
References
This article is sponsored by