Leaning On Sharsheret So That My Mother Can Lean On Me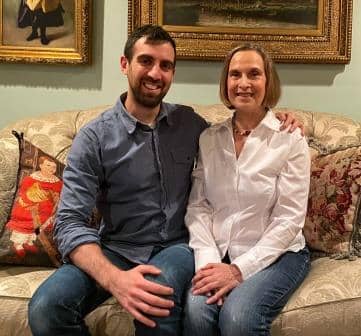 Life was already hard. The pandemic made sure of that. In addition to losing my job, I was displaced from my home, my friends, and from most things in life that brought me joy. But I had my family. More specifically, I had my mother. A pillar of support, security, and reassurance. And, of course…love. If it meant I had to lean on those things a little more than usual to find my way through the pandemic, so be it.
And then a sucker punch.
That biopsy her radiologist recommended turned out to be not just a precaution. It was cancer. Stage 1 Triple-Negative Invasive Ductal Carcinoma. I didn't know what any of that meant. Why would I? This happens to other families. Not ours.
But I knew it was her time to lean. Though how was I possibly going to be that pillar of support, security, and reassurance for her when I was already struggling to find my own footing?
And then Sharsheret came into our lives.
I entered my first interaction with one of Sharsheret's social workers fearful that expressing any concerns outside the realm of my mother's care and treatment would be seen as selfish and unloving. Sharsheret disarmed me with validation. Being a compassionate caregiver does not preclude taking care of yourself. In some ways, it demands it.
From there, Sharsheret created a nurturing space in our household that had largely been absent following the diagnosis. From the literature, such as the Spungen Foundation Family Focus® packet for myself, and the the Newly Diagnosed packet that served as an anchoring reference guide, to the webinars that helped build on concepts and community, knowing that Sharsheret's resources extended to the caregiver allowed me to start becoming that pillar of support, security, and reassurance.
I could lean on Sharsheret so that my mother could lean on me.