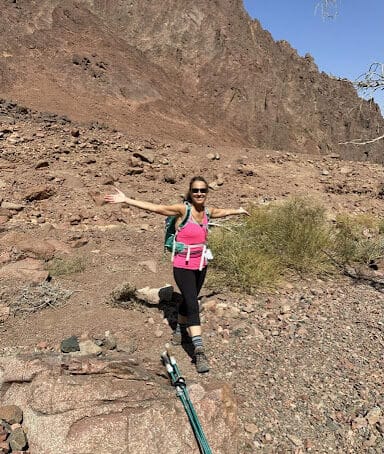 I recently returned from an amazing five-day women's hike in the desert of Israel with my friend, Ilana. We hiked in 90-degree heat, up mountains, across boulders, through narrow passages, walking 14-17 kilometers a day on sand and stone, up steep inclines, down into valleys, and between walls of stone and along dried-up river beds. 
The hike was challenging, beautiful, difficult, exhilarating, exhausting, fun, scary, and amazing. 
Each day we learned new lessons and reinforced old ones, and as I reflected on these Lessons from the Shvil (Hebrew for trail), I realized that each one of them related to, or was similar to, something I had learned during my cancer journey. As has happened so many times before, life's most profound lessons spill over into various facets of life. 
For starters, I learned that we really are tougher and stronger than we think. Just when you think you can't handle anything else, can't take another step, can't continue another hour, you dig deep and find more energy, more strength, and more power in yourself. We learned this from our own experiences and from the occasional trees, plants, and flowers we encountered in the desert. These plants seemingly grow out of nothing – some sprouting from stones, or dry earth. In order to find the nutrients and moisture to survive, these plants must dig deep into the earth. Their roots must reach so much deeper than what seems possible from above. We, too, have the capacity to dig deep to find more energy to keep going, to move forward, and climb upward, both literally and figuratively. No doubt, I learned this lesson during my cancer experience – just when I thought I couldn't take any more, I made it through the next phase of treatment or the next scan. And then… I made it through the next step again.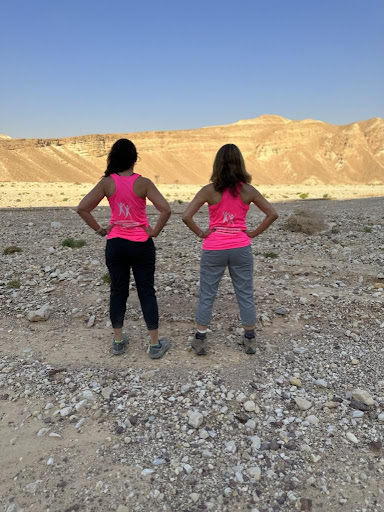 We also learned that we can do almost anything we set our minds to… and it's so much more fun and feasible when we do it together. It's also okay to ask for help. In fact, asking for help enhances the experience of both the receiver of help and the giver. Throughout this hike, I was personally working back from two injuries, and as a result, there were times I needed a boost, or a lift, or a pull, or a push to get to the next step.  And so, I asked for help.  Moreover, there were times when my fear of falling overtook me and I relied on the confidence and guidance of others to get me through. And this did not detract from my experience – rather, it added to the closeness and connection I felt to the other women. They helped me at times and I helped them at other times. I know that I could not have hiked these trails alone. It was together that we got through each element of the hike, and together we reached our destination. The social connection and the social support made it all not only possible, but more enjoyable. Of course, this brought to mind the secret sauce of 2Unstoppable, the non-profit that Ilana and I cofounded to help women improve their own cancer outcomes through exercise. 2Unstoppable integrates social support to motivate movement, and movement that fosters social connection.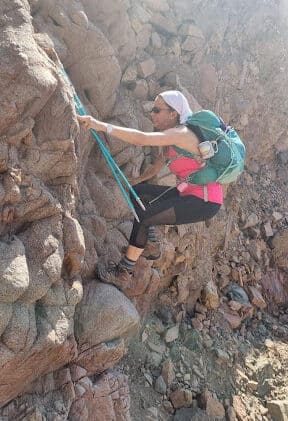 Finally, we learned the power of the mind. There were many times where we reminded ourselves to have good thoughts – "I CAN do it," rather than "I can't!" We visualized ourselves safely navigating the edge of a cliff or a steep ladder down the side of a rock, or mountain, and then we did it. I was amazed at how my own mind could conjure up dangers as easily as possibilities, and that I had the power to change the direction of my mind. Once again, the power of being with other women helped with this as well – because when I realized that others saw the same steep mountain differently than I did, I realized that with awareness, willpower, and inner strength, we each have the power to mold our own perceptions – and to create our own realities. 
Strength, willpower, social connection, and the power of the mind: These are the life lessons that I bring home from the trail, from which I will forever be renewed, restored, and revitalized.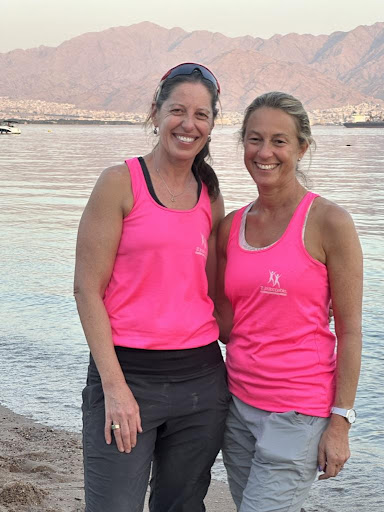 Michelle Stravitz is the co-founder of 2Unstoppable, a Sharsheret partner resource and a non-profit organization which helps women with a cancer diagnosis improve their own outcomes through exercise. Michelle was diagnosed with stage II Triple-Negative Breast Cancer in June 2015 and has served as a Sharsheret peer supporter since 2016. For more information about 2Unstoppable, please visit www.2unstoppable.org.