Living With a Positive COVID-19 Result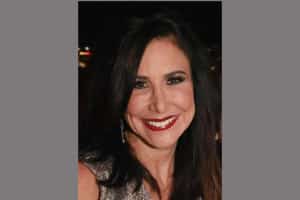 The good news: I have food, a roof over my head, a sweet, (although needy) dog, two amazing kids, and an incredible network of friends and family who are there for me, albeit virtually for the moment.
I also have an abundant supply of flushable Preparation H wipes ordered during a moment of toilet paper shortage panic.
The not so good news:  I tested positive for Covid-19.
On Friday the 13th, I was experiencing tightness in my chest.  I felt fine otherwise, so attributed it to the anxiety of learning that my 13 and 14 year olds would be home from school for an indeterminate amount of time.
Saturday morning I woke up feeling achy, tired and feverish.My temperature started at 99.8 and went up to 100.6.  I called my doctor, explained my symptoms and that I had been traveling, including attending the AIPAC conference where several cases were confirmed.
At his suggestion, I went to the Cedars-Sinai ER, finding it eerily empty. I was escorted to the triage tent, had my vitals taken and asked a number of questions regarding possible exposure.  The doctor came in and explained that would test me for the flu, and if the results were negative, they would run the Covid-19 test.
6 samples were taken from the very top of my nasal passages and two from my throat and I was sent home with an inhaler to keep my chest clear..
When I returned from the ER, I took extra steps to keep those around me
"safe"  from possible exposure:  extra hand washing and spending most of my time confined to my bedroom and office. I also did my best to wear a mask when I was in the kitchen or around others.
Truthfully, I was much more concerned people I might have exposed than my own wellbeing.  As the week progressed, the anxiety overtook the discomfort caused by the symptoms.
When the call came around 4pm Friday from Cedars informing me the Covid-19 test was positive, I was shocked. I didn't know where to start with the questions -who do I need to tell? what about my children?  The PA couldn't have been nicer, even giving me her personal number in case I had questions or worsening symptoms.
I was relieved to learn that since I hadn't seen my parents and some "higher risk" friends on since the 9th, the fact that they were asymptomatic was a good sign.  Still, I remained concerned about others who were possibly compromised.
I called my mom to give her the news, and began compiling a list of people who I had been in 'close contact' with during the week before I developed symptoms.
I felt sick to my stomach making the calls and sending the texts. Though I knew it wasn't my "fault", I was embarrassed, shameful and guilty.
Most people were kind and appreciated my letting them know. One person asked "who gave it to you". The reality is I was at a conference of 20,000 people, 3 plane flights and a funeral of over 1000 people and any one or 10 or 100 of them could have exposed me.
I told my kids.  My younger daughter was in tears. "Are you going to have it forever?  Will you be ok?" I guess the fact that the kids have been so engaged in their virtual social lives that they haven't obsessed over the Covid-19 reporting is a good thing. .  My older daughter, assured her "Mom beat breast cancer. She will beat this!"
The following day, a woman from the Health Department called and conducted an extensive interview covering where I had been, including flight numbers and Uber rides.  She collected information about all of the people I had been in 'close contact' with for more than 10 minutes the week before I was tested.
I was told to expect a call from a caseworker who would monitor my symptoms and answer any questions I have.
————-
Current estimates are that at least 58 percent of people will have Coronavirus.
Making calls after my diagnosis showed me quite simply how the exponential spread works – any one of those people I had exposed, especially if they are not practicing social distancing, could result in the exposure of several additional people.
Admittedly, I considered the whole Coronavirus 'thing' overblown. And although the statistics are still unclear, absent a vaccine or treatment, we don't have many choices except to follow the guidelines.
Every time I read about people disregarding the directives, my heart sinks.  Every day someone decides not to listen is another day we all face in isolation from our friends and families, and another day of sickness and loss.
This isn't something any of us an individuals can fix alone –we each have a personal responsibility to protect our neighbors and loved ones.
But what is our responsibility beyond "protecting" others?  What more can we do for people who have lost jobs, who are high risk and isolated at home, people who are suffering from anxiety and depression in a time where there is so little predictability and stability?
I remember what it felt like when I was going through cancer treatment – I felt anxious and alone and scared – scared for my future and for that of my children, for the unknowns in regard to my medical treatment.  People would reach out to me and offer to cook for me, to care for my children, to run errands , to ake me to appointments.
I cannot imagine what it would feel like to go through treatment now with social distancing and the threat of COVID-19 making those who are vulnerable feel even more isolated and alone.
Sharsheret has always been at the forefront of patient and family support for those diagnosed with breast or ovarian cancer or families carrying the BRCA gene mutation.  Now, those undergoing active treatment don't have the benefit of having friends or family by their sides since visitors are not permitted in most infusion centers, nor is it safe for them to have people visiting in their homes.  Many women scheduled for surgery have learned that it has been postponed as hospitals have cancelled "non-emergent" procedures until they can better control the spread of the coronavirus. Now, more than ever, Sharsheret's social workers, webinars and Link program are providing a lifeline for women and their families.
(This piece was originally published in The Jewish Journal on March 23, 2020).