What You Should Look For When Hiring a Trainer After Breast Cancer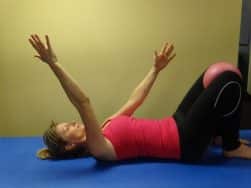 Many of us know that exercise is important after undergoing breast cancer surgery and treatment, but there are still many questions that linger. If you are thinking of hiring a personal trainer, what are the important considerations? What questions should you ask a potential trainer? Here are some suggestions.
Do you have any type of fitness certification? Trainers are not licensed, so make sure that they minimally have a certification from one of the industry leaders including ACE or ACSM.
Have you taken any courses on cancer fitness or do you have any specialty certifications such as the ACSM Cancer Exercise Trainer? They should have education in cancer and the implications of cancer treatment on mind, body and spirit.
What type of experience do they have with cancer survivors? Have they worked with clients with breast cancer? Ideally, they should be educated and know how to proceed with clients who may have lymphedema, fatigue, weight gain, peripheral neuropathy, breast reconstruction, and Chemotherapy Related Cognitive Dysfunction or chemo-brain.
If working in your home, do they have liability insurance?
What will your initial assessment include? A thorough assessment is often comprised of flexibility, strength, balance, and cardiovascular status.
Do you require a doctor's clearance for exercise and are any special precautions advised?
Do they ask about the type and timing of surgery, treatment and breast reconstruction that were performed and if you have any other medical conditions? This will determine when to start strength training to the affected arm and core as well as cardiovascular conditioning recommendations. Knowing about other conditions may necessitate modifications in your program.
Do they recommend a DEXA? If you have undergone chemotherapy or are on aromatase inhibitors you are at risk for osteoporosis. A baseline should be performed to know what types of exercises are appropriate.
What type of exercise do they include in their program? A good program should include a warm up, flexibility training, strength training, and cardiovascular recommendations within your capabilities and goals.
If you have lymphedema, make sure that you consult with your lymphedema specialist to see if you should wear a sleeve and glove while exercising.