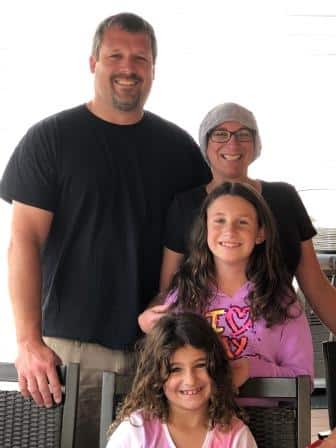 When I found out I had breast cancer and was required to have chemotherapy, which would cause me to lose my hair, I was numb. I almost didn't believe it and kept pushing it into the back of my mind because I was facing surgery before the chemotherapy. 
Two months after being diagnosed I had my first chemotherapy treatment. That same day, my Oncologist said it was time for me to cut my hair short. Initially, I thought ok, I will cut my hair and it won't be a big deal, but I was wrong. The day I cut my hair, my husband and I tried to keep the mood light for our daughters ages  8 and 10 years old by having a little party! I parted my hair and told the girls to give me a haircut and they did. There were tears on their end because they didn't know what to expect, but I did my best to keep a smile on my face. The time came for my husband to complete the hair cut by shaving my hair to a very short buzz cut. Right before the clippers hit my head I burst into tears. I didn't expect this to be so traumatic, but because it wasn't my choice it was!
Then came day 17 after my first treatment, the day my Oncologist told me I would start to lose my hair. I woke up and looked at my pillow and I had no hair on it. But when I got into the shower and ran my hand through my hair, there was a lot of hair clumped in my hand. I cried again because it was real. It took another two showers before my hair was fully out. The act of losing my hair was devastating. I then remembered I had a beauty box from Sharsheret and immediately opened it and rifled through its contents. It was filled with everything I needed for my hair loss on my head, as well as my eyebrows and lashes. My eyelashes have also started to fall out so the eyelashes in the box have been very useful. The support I have received from Sharsheret has made the trauma of losing my hair much more tolerable and I have used every product in the box. 
Aside from Sharsheret's Best Face Forward beauty kit and Busy Box filled with toys to keep my kids occupied while I'm in treatment, the ongoing emotional support I have received from their social workers has really helped get me through my cancer experience. There is nothing like talking to someone who understands what you are going through. I am now a proud Sharsheret Peer Supporter and have been linked twice with other women through Sharsheret's network who have similar aged children and diagnoses to mine. Speaking to other women who share my experience has made me feel less lonely and ready to take on the road ahead.