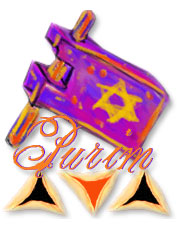 There is proper decorum when entering the sanctuary of a synagogue or temple. We are expected to sit quietly and the Rabbi may even suspend the service until all congregants remain silent.
This is definitely not the case on Purim. On this day, we enter the sanctuary dressed in costume and we are permitted – actually, expected – to raise our voices and drown out the reader of the Megillah (Story of Esther). We bring noise makers, drums, and stamp our feet to drown out the name of Haman, a man who sought to destroy the Jewish people. The commotion of this service culminates in joy and celebration.
Often, women calling Sharsheret feel very emotional. It is sometimes difficult to speak through the fear, anxiety, or the crying. Inevitably, women apologize for their display of emotion. Is there a proper decorum when facing cancer? Is there an expectation that women should always remain calm when discussing their situation?
We learn from the holiday of Purim that displaying emotion when our well-being or survivorship is threatened is part of the journey. It's healthy to let loose once in a while. When overwhelmed with emotion, your instinct may be to stop yourself from feeling. Instead, embrace the emotions. You may find yourself in a place stronger than that from which you started. So ladies, bring out your noise makers, stamp your feet, cry out loud, and when you have finished, find the joy.