Meet our Team Sharsheret ING NYC Marathon Athletes: Josh Rozenberg and Mark Segall
Sharsheret is an organization that I believe is has a vital role in the community where I am from (5 Towns), where my wife is from (Upper West Side), and currently where we live (Washington Heights). As someone who knows many people that have or are going through cancer, the importance of having support, I believe is one of the keys to recovery and sustainability. Dealing with cancer is difficult and treatments can even cause more pain. Being part of the close Jewish community where the belief is to support all those that need, Sharsheret answers the calling. However, as known as Sharsheret is, it is vital to have their name and message sent to all those that do not know of it and those that have heard of it to gain a better understanding of what an unbelievable institution it is. By racing for Sharsheret, I hope to spread the message of Sharsheret by promoting, not myself, but the organization I plan to represent on November 6th.
Recently, I have tried to get in shape to be healthy, for myself and more importantly my family. When the doctor told me that I needed to get in shape I took on training with a friend who is also planning on running the Marathon. Through my training so far, I realized that I am not doing this marathon for myself but for others who depend on me. With that thought, I felt it would be appropriate to ask Sharsheret if I can join their marathon team this year as everything they do is for other people. People depend on them for support and in turn I felt this is the right organization for which to run the ING NYC Marathon.
Please support me in my efforts as I train and fundraise as part of Team Sharsheret.
---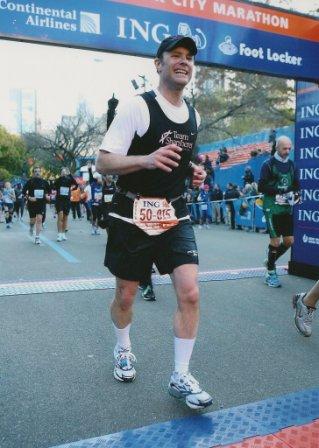 I am running the ING NYC Marathon as part of Team Sharsheret for a second year in a row in memory of my mother, Joyce Segall, of blessed memory, who courageously fought two cancer battles in her life. She was diagnosed with breast cancer in her mid-thirties and spent the next 20+ years of her life actively involved in breast cancer awareness and counseling.
I so appreciated the unbelievable outpouring of good wishes and support I received last year, both monetarily and emotionally. As I am on the cusp of 50, I figured I have at least one last good year left to run for this amazing cause.
I am so grateful for all of your support last year in having helped me make this an unbelievably successful run. Your support has inspired me to do this again this year, and I ask for your indulgence one more time in contributing to the important work that Sharsheret does.