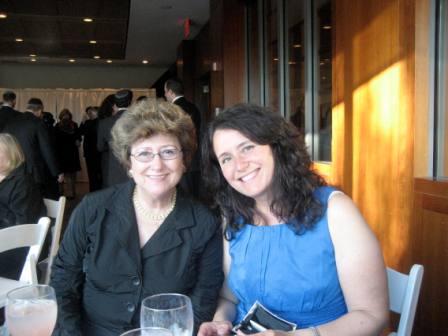 When I was 20, my parents came to see me unexpectedly at college. They told me that my mom had stage 2 breast cancer and was going to be having a mastectomy and chemotherapy in the coming months. I was scared for her and I was scared of losing her. My mom, my rock, was sick. She was the one who was always there for me, taking care of me, and now I had to watch her go through the process of surgery and treatment. The fighter that she is, she made it through with flying colors! Twenty years later, my mom is healthy and cancer free.
At the age of 20, you don't really think cancer can happen to you but it was always in the back of my mind and I found myself constantly wondering, "what if?" So when I turned 35 I started going to a special program for women who are at increased risk for breast cancer. Imagine my surprise when 2 years later I was diagnosed with DCIS. Now my mom would have to watch me go through the same surgery, the emotional and physical pain of having a mastectomy. I opted for a double mastectomy with immediate reconstruction. My husband and I wouldn't have been able to get through it without the love and support of my mom. She was there for me, taking care of my 3 kids, getting them ready for camp, driving them to their activities, cooking, and cleaning. At the same time, she made sure that I was comfortable and was a shoulder to cry on when I needed her support. She also told me about Sharsheret and the Link Program. I connected with Sharsheret and was able to speak to other women who had been through my same situation and they helped me during this difficult time in my life. They were able to guide me in speaking about my cancer with my kids. And of course, I will never forget the day I received my Busy Box and beautiful neck roll pillow from Sharsheret. I cried because I was so happy that people who had not even met me in person would care so much about me!
My mom is and will always be my rock. I would like to wish her and all of those other special moms a very happy Mother's Day!