My Mom's Fight Didn't End With Her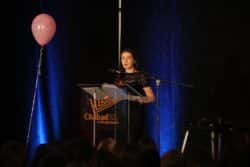 On Thursday night, March 28th 2019, Chabad of Binghamton hosted their annual Fashion For A Cure event. This year I was privileged to be a part of the planning committee along with eight other girls and the Rebbetzin of Chabad, Rivky Slonim. Together we met weekly planning all of the details of the event and continued to raise money to reach our goal of $15,000. The event started off with a reception that included a beautiful dessert buffet and a Chinese auction raffle that consisted of over 90 prizes. Then, everyone moved into the main room where over 400 people took their seats for the event to start. There were incredible performances led by a campus acapella group and a dance group. Following this, myself along with three other Binghamton students spoke about our personal stories and experiences with breast or ovarian cancer. The room was filled with tears as each speaker unraveled their personal emotional powerful stories to their peers. After this, the fashion show began where each model was dressed as an empowering women figure in either history, media, or professions, which was modeled after this year's theme, "Empowered Women Empower Women." Everyone left the event feeling touched and inspired and most importantly, I feel that everyone learned a lot from the talks and moving forward will be more vigilant in doing self examinations and will advocate for themselves and their overall health. With all of our collective efforts we were able to surpass our fundraising goal raising $19,575.81! I am so proud of what we were able to accomplish together and I am so grateful to the amazing people I worked with in order to make the night a success. Here is a copy of what I said at the event in memory of my mom, Sharon Sokol Heisler Z"l.
Good evening, for those of you who don't know me. My name is Amanda Heisler. I am a sophomore studying Marketing in the School of Management. I am on the executive board here at Chabad. I am from Great Neck, Long Island, and I like to draw, sing and play tennis, but all of this information you can get simply by reading my resume. But what I want to share with all of you tonight is my story. One that I don't tell often, but is part of who I am and is something that I don't go a day without thinking about.
July 16th 2004, I was 5 years old. I came home from day camp and my house was packed with people- family, friends and strangers. The day was a complete blur, I don't remember who picked me up from camp, I don't remember exactly who was in my house, but I remember just walking around my house in circles looking for my mom. Eventually, I gave up and asked my aunt where she was.
She looked at me and said "your mom passed away".
Being only 5 years old I asked her "what does that mean?"
And she said "your mom died".
I was too young to understand what that really meant, but I felt overwhelmed with emotion and ran to the nearest window and just sat by it.
I looked up at the sky and just sat there thinking, but I didn't cry.
How can a child who just graduated kindergarten be expected to handle this news and deal with this process?
I don't remember the funeral, the only thing I remember from that day was being excited by my first ride in a limo. I guess subconsciously I blocked out most of this time of my life, which is both a blessing and a curse at the same time.
To fill in the gaps, my mom, Sharon, was diagnosed with stage 4 breast cancer when she was 33 years old. The doctors told her she only had a few more months to live, but she ended up living for 3 more years and she lived those years as normally as she possibly could. She continued to be involved in the school, the shul, synagogue, and the community. She still drove carpool and took me and my younger brother to the park. She managed to go on our family's annual 4th of July trip to Cape Cod only a month before she passed away and during her last week, she even managed to get up and change my brother's diaper. My mom kept her disease private from the community, only family and a few close friends knew. My mom chose not to tell people because she didn't want people to pity her or treat her any different.
This is something I will forever admire her for.
I have one vivid memory of my mom when she was sick.
There was one time that she was giving my brother, James, a bath and I was in the bathroom with them. My brother decided to pull at my mom's hair, which at this point because of her treatment she was wearing a wig. All of it came off. Of course, I was too young to know what chemotherapy was and I wasn't even aware that there was anything wrong with my mom. So, all of my mom's hair coming off in front of me didn't even phase me.
When my mom, Sharon, passed away she was 36 years old, I was just about to turn 6 and my brother, James, was 3.
I read a book recently written by Rebbetzin Esther Jungreis called, "Life Is A Test." And in it she says "A long life is not good enough, but a good life is long enough." This quote perfectly describes my mom. She may have only lived 36 years, but she lived those years the best way she could and she will be forever remembered that way.
Growing up in a religious home, I have learned that Hashem has a plan for each and every person. This is a hard belief to truly internalize and accept, but it is how I lead my life. It is the only way I can think to move forward. I know that my mom is watching over me and is proud of me right now. And tonight I am wearing a locket with pictures of her inside that I was given for my birthday after she had passed away.
My mom was actually supported by Sharsheret when it was first started in 2001. It was soon after my mom was diagnosed and Sharsheret had connected her to another home in Great Neck to reach out to for support. My mom chose to not just speak over the phone, but to actually visit the other family in person, which was a big deal since they wanted to keep her illness private from the rest of the community. Sharsheret was able to provide the support that my mom needed in the way that she needed. This is just one example of the powerful and impactful work that Sharsheret has done and will continue to do with all of our support.
My dad, Eliot, remarried 3 years later to my mom now, Erica. My stepmom already had a son from her previous marriage and my parents had a daughter 2 years later together. So, my family now consists of my dad and stepmom. My biological brother, James, who is 18 years old. My stepbrother Jason, who is 17 years old. And my half sister Chloe, who is 9 years old.
I just want to point out that I am using the words "step" and "half" with you all here tonight only to explain my story, but I never refer to my family that way. I never think of my family that way. I love every single person in my family regardless of if they are biologically related to me or not and I would not be able to stand here in front of you all today without them.
At this point in my life I am able to recognize that I was both blessed and cursed to be so young when this tragedy was all taking place.
I didn't understand what was happening around me.
I was oblivious to the constant babysitters.
I didn't notice my mom's pain and my parents' stress.
I was so young and innocent minded.
Innocence is a very powerful tool.
My mother was taken away from me; she didn't get to raise me.
I didn't get to know her as a person, friend, or mom.
Most of what I know is through stories from other people and pictures.
This night is a night of women empowerment, but also a night to learn from.
I don't want any of you to be misled by your innocence. You can't ignore the statistics and you can't ignore the signs around you. Realistically, the odds are stacked against us. I didn't have to consciously fight alongside my mother, but I was robbed of the chance to truly know my mom as a person, friend, mother, and fighter. Nobody should ever be able to say this.
We are blessed to be able to live in a world full of advancing medicine and technology and growing support with social media, this is something we should all take advantage of and not be blind to.
Innocence is nice, but it is something we must grow out of because it will be harmful later on. Cancer has no age restrictions, we all need to be active and conscious and aware and proactive. You need to be aware of your body and your history and seek appropriate medical attention. My mom's fight didn't end with her. It is now my responsibility to take the necessary precautions for my health and future.
While I am up here I just want to take this opportunity to thank all of the amazing ladies who have been sitting in meetings with me since before winter break and who have helped put this incredible night together!
I want to thank Rivky for asking me to speak tonight and for all of her tireless efforts into making this night a success! And lastly, I want to thank my amazing family members for driving all the way up here to support me tonight, I love you guys.
Thank you.