My Sixth Half-Marathon With Team Sharsheret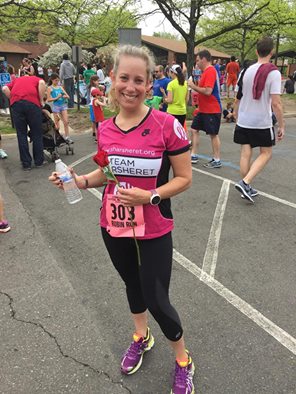 I was lucky enough to meet Rochelle, Sharsheret's Founder and Executive Director, through the Berrie Fellows Leadership Program eleven years ago. I was so inspired by her intelligence, her sensitivity, her knowledge and her tenacity. A few years later, while having lunch together, I mentioned that I was training for the MORE Half-Marathon in NYC, a race in which only women competed. I knew that Rochelle was a runner as well and I invited her to run with me…then I thought that I would run for Sharsheret. I joined Sharsheret's very first Team with two other women and we completed the race on a cold wet Sunday. From my very first step, I knew that my commitment and involvement would only grow. Today, I am honored to be running my sixth half-marathon again with Team Sharsheret!!
Joining Team Sharsheret is a perfect way for me to remember and honor Rochelle and so many women in my life. I am running in memory of Emily, my best friend's sister, a woman in her 20s who was diagnosed with Stage 4 breast cancer. I am running in honor of Debbie, who was immediately diagnosed with breast cancer just after her sister Emily had passed away, and in honor of Sharsheret and the amazing work that they do every day to support women and their families facing breast cancer and ovarian cancer.
Please support me in my efforts as I train through the warm summer and fundraise and spread the word about Sharsheret.