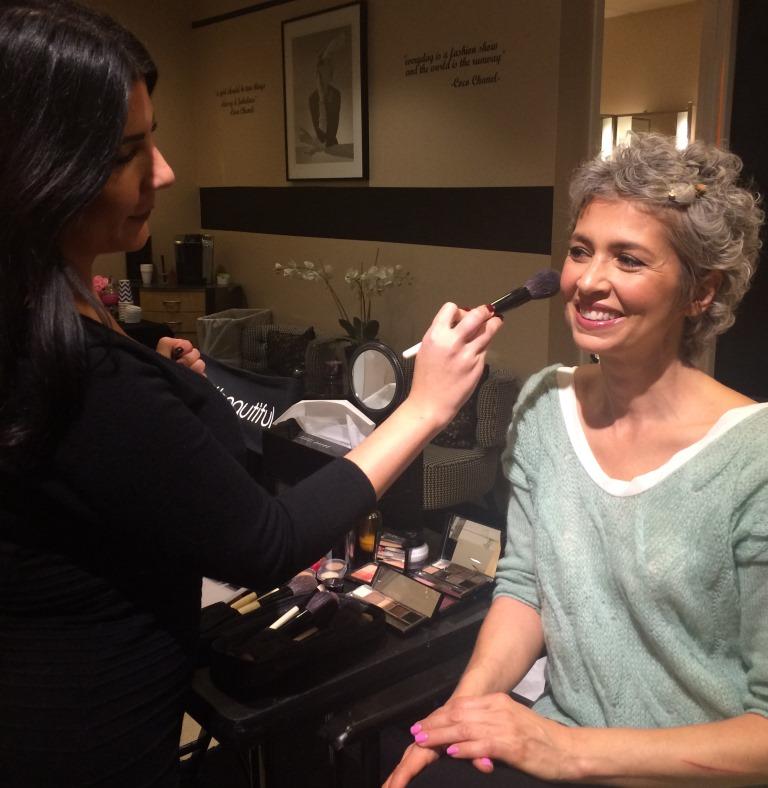 While being treated with chemotherapy and surgery for a breast cancer diagnosis, I didn't feel beautiful; I was depressed, scared and anxious. I stopped wearing make-up those several months; I felt absent from my life and was waiting for the new "me" to unfold. I sought support during my vulnerable months and Sharsheret was there for me even though I am not Jewish!
Since I was on their roster, I received the email that Bloomingdale's at Riverside, NJ was pairing up with Sharsheret to offer its participants a complimentary makeover and free personal shopping consultation in support of National Breast Cancer Awareness Month. I jumped at the opportunity for free pampering, looking forward to learning tips after my beauty-siesta.
Chelsea, the Bobbi Brown Cosmetic genius that made me over was friendly, compassionate and professional, answering my questions as we went along. I felt relaxed in her chair, trusting her eye; I requested a look for a night out in NYC that evening, so she focused on my eyes, finishing my look with contouring powder and a light gloss on my lips. When I looked in the mirror, I genuinely liked what I saw: my features were accentuated in a natural-looking way, Chelsea took good care in creating her masterpiece, I felt like a superstar my night out! Afterwards, I was given a chart with the list of products used especially for my skin, and was not pressured to buy. I came away feeling like this was an experience to truly help me feel glamorous, not to pressure me to spend money. I thank Bloomingdale's, Bobbi Brown Cosmetics and Sharsheret for the opportunity to be pampered, seeing myself in a light where I shine, celebrating all that I am today!