Preventing and Treating Hormone-Receptor Positive Breast Cancer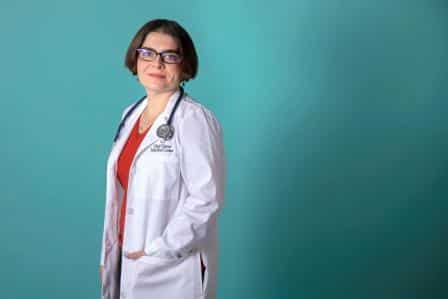 Breast cancer is the most frequently diagnosed cancer in women. Hormone- receptor positive breast cancers – meaning the cancer cells grow in response to estrogen and/or progesterone – are the most common type of breast cancer, representing 75% of all cases.
Advances in hormone therapy, also called endocrine therapy, have given us good options to prevent breast cancer in women who are at high risk for developing the disease. Hormone therapy is taken orally as a pill. The therapy is also used, as what is called adjuvant therapy, to prevent the recurrence of hormone-receptor positive breast cancers after patients have undergone surgery and radiation therapy, if necessary.
We are also using hormone therapy as a first-line therapy in women with hormone-receptor positive metastatic breast cancer, when the disease has spread beyond the breast and nearby lymph nodes into other parts of the body. The new standard of care is to combine hormone therapy with medications called CDK4/6 inhibitors to prolong progression-free survival for patients with metastatic cancer. CDK4/6 inhibitors interrupt the growth of breast cancer cells and give patients more time before they must begin to receive chemotherapy.
Oncotype DX® 21 Testing
Genomic testing, such as the Oncotype DX 21® gene assay, has allowed us to identify patients who are most and least likely to benefit from chemotherapy. Oncotype DX 21® generates a score of 0-100 based on 21 specific genes in breast tissue samples from patients' biopsies or surgery samples. This unique set of genes predicts a patient's response to chemotherapy as well as the chances of cancer returning.
The effectiveness of Oncotype DX 21® has been extensively researched and documented. Thanks to the recent results of a clinical trial called TAILORx, we now know:
women over age 50 with early-stage hormone-receptor positive breast cancer and a recurrence score of less than 25 will get the most benefit from adjuvant hormonal therapy alone after surgery and can avoid the side effects of chemotherapy
women at any age with a recurrence score of less than 15 do not receive any benefit from chemotherapy and can avoid it
women who are less than age 50, with scores between 16 and 25, warrant further review and discussion, considering other factors such as tumor size and grade.
Oncotype DX 21® has allowed many women with early-stage hormone-receptor positive breast cancer to avoid chemotherapy and have positive long-term outcomes with hormone therapy alone. Based on multiple randomized clinical trials, we now prescribe extended hormone therapy for high-risk patients beyond five years after surgery.
Raimonda Goldman, DO, cares for patients at Holy Name Medical Center's Patricia Lynch Cancer Center in Teaneck. She takes a multidisciplinary approach by involving all specialists on the medical team, including radiation oncologists and surgeons, to provide the best possible care for her patients. She is a member of the American Society of Clinical Oncology, the American Society of Hematology, and the American College of Physicians – American Society of Internal Medicine.
To make an appointment with Dr. Goldman, call 201-227-6008 or visit HolyNameMedicalPartners.org.