Prioritizing My Mental Health While Fighting Cancer In A Pandemic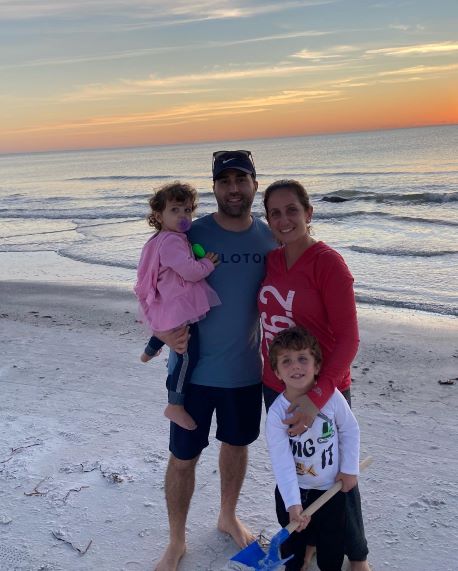 We were in full lockdown mode at the beginning of the pandemic. My then 2-year-old son was out of school and my husband, Ron, was working from home. I was breastfeeding my
8-month-old daughter and had been experiencing breast pain, unexplained fevers, night sweats, and decreased milk supply. My primary care physician brushed off my symptoms and when I called my ObGyn, we thought it might be thrush or mastitis. But it felt different. After finding blood in my breast milk, my mother, a retired ObGyn, pushed me to see my ObGyn in person. I hadn't wanted to risk exposure to COVID-19, but I agreed. I already knew I was a BRCA1 mutation carrier, and I had planned to undergo a preventative mastectomy once I finished breastfeeding.
But… On May 12, 2020 I was diagnosed with stage 3b triple negative breast cancer in my left breast and at least 4 lymph nodes. A friend introduced me to Sharsheret; Sharsheret's support reduced the trauma of undergoing cancer treatment during a pandemic. Talking with my Sharsheret social worker, customized packages for my kids and me, information about genetics and treatment options, educational and fun webinars – these all made me feel much less alone. I've shared my story to educate others hoping that as I do, I can help other women and families.
Always active as a competitive athlete turned runner, when I felt good enough during my cancer treatment, I did virtual pre-chemo runs "with" friends. I recently got an email asking if I wanted to run the Chicago Marathon with Team Sharsheret and the answer was an easy yes. I can't wait to train and raise funds for Sharsheret.
Now, being almost 2 years out from my diagnosis, I still sometimes look back and can't believe it was me that went through all of that; like I'm watching a movie about someone else. I am happily moving forward with a new full time job and the support of my family but I will never forget this second chance at life that I've gotten.