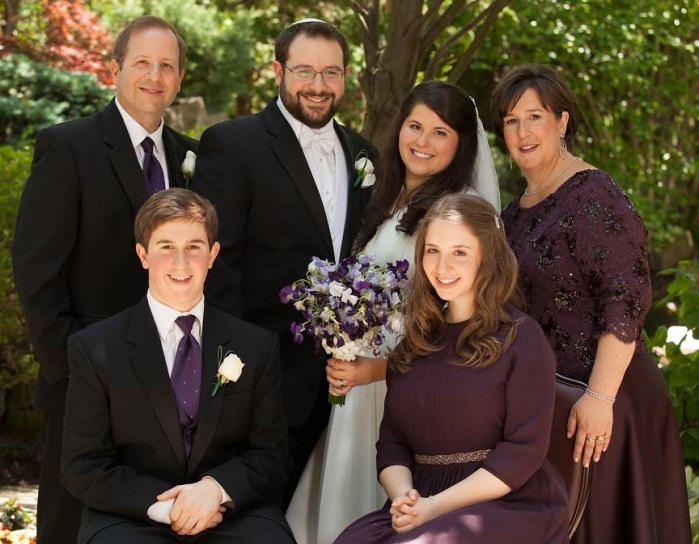 Q: When did you start volunteering at Sharsheret?
A: It was September of 2011. I came in to buy tee-shirts for the Race for The Cure Breast Cancer Walk and asked about volunteering. I was asked when I could start. I was there the next day stuffing envelopes and have been there weekly ever since.
Q: What have you learned from your time at Sharsheret?
A: How devoted everyone is at Sharsheret and how much they care for each individual and family affected with breast cancer. I am very impressed with the dedication of both the paid staff and volunteers, all of whom have helped Sharsheret grow from a local to a national organization.
Q: What is your favorite Sharsheret memory?
A: Being in the office and having a chat with Rochie. She was smart, funny and insightful. She was very inspirational to me.
Q: What do you like to do when you're not busy at Sharsheret?
A: I love spending time with my husband and children (pictured above). I also love to travel whenever possible. One of my hobbies is needlepoint; it's my way of being creative and productive. (And it is a good excuse to watch TV.)
Q: Why do you volunteer at Sharsheret?
A: When I first started volunteering at Sharsheret, I was always greeted with a smile and a cheer, and that has continued even though I have been there for 5 years. Why I have volunteered Sharsheret for the past five years is easy, the people who work there are amazing. They are truly dedicated to helping those who are touched by breast and ovarian cancer. Helping out in the office, whether it is data entry or simply stuffing envelopes, is my way of helping those who helped me when I was first diagnosed with breast cancer. It gives meaning to my week and it also keeps me out of the malls, so
it's a win-win!