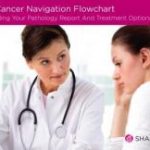 Who's Who
Click here to learn who's who on your treatment team, and what types of questions to ask.
Click here to see what questions you may want to consider when choosing your treatment team.
Click here to speak with peers about your health care team.
Click here to watch videos from members of your treatment team.
Breast Cancer Navigation Flowchart
The Breast Cancer Navigation Flowchart includes information about your pathology report, diagnosis, and treatment options. Use this Flowchart as a springboard for conversation with your health care team to explore all of the options that are available to you.
Download the Navigation Flowchart
The Navigation Flowchart is Sponsored by:

Sharsheret does not endorse or promote any specific medication, treatment, product, or service.