We Run To Raise Awareness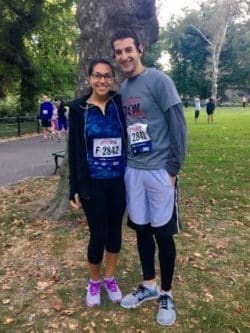 We are so excited to be running the UA NYC Half Marathon with Team Sharsheret! First, a little background on us. David is from Westchester NY. A graduate of Binghamton University, David now works as a Media Strategist at The Media Kitchen in SoHo. From Clifton and West Orange NJ,Jessica is a graduate of Barnard College where she majored in Religion. Jessica currently works at Mondo, a staffing agency in NYC, as a Business Development Manager. We met in 2012 when Jess was visiting friends at Binghamton, got married in August 2015, and have been living in Forest Hills ever since.
It is particularly meaningful for us to race with Team Sharsheret. David's mother is a breast cancer survivor, having been diagnosed at age 43 with stage 2B breast cancer. Sharsheret provided support through their Link program by pairing her with a survivor who had been faced with the same questions and concerns. Her advice was invaluable and helped our mom endure the multiple surgeries and treatments she experienced in the months and years that followed the diagnosis. That connection with her "link" was so important to her recovery that she was inspired to provide that same assistance, and has served as a link to many other women who faced the diagnosis of breast cancer in the past 13 years.
Aside from our mom, breast cancer has touched many more people in our lives, both family and friends. Jessica's grandmother unfortunately passed away from breast cancer in 2001. Hawley Cohen Levenson Z"l was a beloved mother, doting grandmother, and treasured friend. She was a nurse, working both in a hospital and during wartime. We're proud to be running in her memory and in the memory of so many other woman who have fought and are continuing to battle breast and ovarian cancer. Being able to run with Sharsheret, which has helped our mom and family during a very difficult time and continues to help thousands more every day, is the best way we can think to give back.